Product Description for the Two Notes Le Clean Dual Channel Tube Clean Preamp Pedal
Le Clean :
Le Clean takes its inspiration from the classic amps of southern California in all shades of brown, black and silver.Channel A has a pure ultra clean texture. Channel B lets you bring in classic sweet overdrive of a dark desert highway.The Cold Fusion mode gets right to the heart of Texas while Hot Fusion takes you out of the blue and into the gnarliest Tweed tones.
Two channels plus Fusion mode :
The A and B channels are totally independent, each with their own voicing and eq section: Bass and Treble on A, Bass, Mid with Mid Sweep and Treble for B. On Channel A you will find a lower gain tube stage with a pre-gain EQ using a more vintage design approach, while Channel B offers more gain and a very powerful post-EQ (with mid sweep). The exclusive Fusion modes open new horizons.
Cold Fusion :
In "Cold Fusion", the two channels are in parallel, meaning you can blend the cleaner sound from A and your more distorted sound in B to gain clarity and articulation.
Hot Fusion :
In "Hot Fusion", A and B are cascaded, meaning A can be used as a boost for B with both A and B EQ's available to shape the result.
The story :
From the moment we launched the Torpedo C.A.B., we believed it was possible to build a high quality pedalboard to entirely replace a conventional tube amplifier system: the complete floor rig. Even with an almost limitless choice of available guitar effects, we always felt that finding a very good preamplifier in a pedal format was challenging. This is why Two notes is proud to premier its line of tube preamplifiers: Le Clean, Le Crunch, Le Lead and Le Bass.
Features
Front view :
Channel A footswitch
Channel A Input Gain
Channel A EQ settings
Channel A volume
Fusion mode selector
Fusion Level
Channel B Input Gain
Channel B EQ settings
Channel B volume
Tube window (Ruby 12AX7AC5 HG)
Channel B footswitch
Sides view :
Channel A footswitch
Instrument input
Thru output
FX Loop Send output
MIDI input
Power adapter connector
Headphones output
Speaker Simulation
Ground Lift switch
Balanced DI output
MIDI output
FX Loop Return input
Instrument output
Channel B footswitch
MIDI :
5 basic functions can be accessed through MIDI Program Changes (PC) sent by an external MIDI device:
Channel A

Channel B

Cold Fusion

Hot Fusion

Bypass
In other words, your Le Preamp can receive a MIDI PC asking for bypass or channel switch. Any MIDI message received will be transmitted to the MIDI output (MIDI Thru function). When using Le Preamp as a MIDI controller, you will be able to send a MIDI PC to trigger preset changes on another MIDI device, such as a Torpedo C.A.B. or an FX unit.
| | |
| --- | --- |
| SKU | TWO-LECLEAN |
| Brand | Two Notes |
| Weight | 10.0000 |
| Dimensions (WxHxD) | No |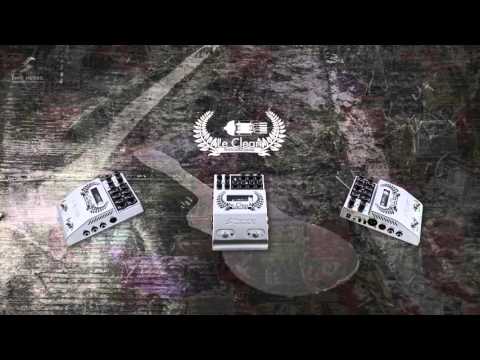 Recommended Accessories