Product Description for the TC Helicon VoiceLive Play Easy Vocal Fx & Harmonies
A Produced Vocal Tone – Anywhere
Producers spend more time on perfecting vocals than any other instrument; the number of layered vocal tracks on a studio recording often run well into the double-digits. VoiceLive Play makes this studio magic available to every singer - everywhere.
The Vocal Sounds You Love
Automatic backing harmonies, vocal double tracking, pristine EQ and compression, lush reverbs, hard-tuned robo-voice – all the goose-bump effects that make today's Billboard hit vocals truly stand out are yours.
Hit Performances & Attractive Practice
The HIT feature gives you total control to punch in a stunning harmony or other effects precisely when it's right for your song. When you're not on stage, plug in your MP3, choose "Vocal Cancel" and practice with your favorite tracks – complete with statistics on your voice.
The Complete Vocal Fx Pedal
Access your effects directly, choose the presets you want and find the styles you like.

Easily browse hundreds of preset sounds.

Add dazzling effects for the chorus, or strip it down for the verse, you decide!

Dedicated outputs for your voice – plus inputs for head phones, auxiliary devices, an expansion pedal and USB for updates and new presets.
Roomsense Mics
Embedded stereo RoomSenseTM mics can control your harmonies from instruments nearby, replace the cabled mic for headphone practice or add a bit of room ambiance to your headphone mix.
More Mic, More Control
Now you can control your FX from a mic engineered for the sonic realities of modern vocal performance. Add the New TC-Helicon MP-76 with 4 user-assignable Mic Control™ buttons, the TC-Helicon MP-75, or the Sennheiser e835 FX.
Extend Fx Control With Stompbox Expansion
Add a Switch-3 accessory pedal to your setup to extend your on-the-fly control of VoiceLive Play's features. Put Delay on the first switch, your favorite Harmony on the second, and a Scale/Key shortcut on the third – or any custom combination of Vocal FX - or even Looping.
Features
Included Effects
µMod

Delay

Reverb

Harmony

Double

Transducer

Tone

HardTune & Correction
Control
200+ Song & Artist Inspired Presets

Preset Up/Down and HIT Footswitch

Graphics LCD Display

Bump-Protected Mic Level

Dual-Colour Backlit Buttons

Dedicated Effect Block On/Offs
Design
Size
Height: 1.8 inches (45 mm)

Width: 7.9 inches (200 mm)

Depth: 6.1 inches (156 mm)
Construction
Dual die-cast clamshell design

Acrylic Lens

Punch-cut Metal connection panel

Rubberized footings

Backlit Graphic LCD Display
Connections
Analog Inputs
Connectors, balanced: Mic.: XLR, Aux: 1/8″ stereo mini jack

Impedance: Balanced/Unbalanced: Mic.: 2.14/1.07 kOhm

Mic Input Level @ 0 dBFS: -42dBu to +13dBu

EIN @ Max Mic Gain Rg = 150 Ohm : -127 dBu

Mic SNR: > 104 dB

Phantom Power: +48V (on/off via Setup menu)

Aux Input Level @ 0dBu: +2dBu

A to D Conversion: 24 bit, 128 x oversampling bitstream, 110dB SNR A-weighted
Analog Outputs
D to A Conversion: 24 bit, 128 x oversampling bitstream, 115dB SNR A-weighted

Connectors, balanced: XLR

Output Impedance Balanced/ Unbalanced: 80/40 Ohm

XLR Output 0dBFS: +2 dBu

Dynamic Range: > 109 dB, 20 Hz to 20 kHz

Frequency Response: +0.30/-0 dB, 20 Hz to 20 kHz

Headphone Out: 1/8″ Mini stereo jack
| | |
| --- | --- |
| SKU | TCH-VOICELIVEPLAY |
| Brand | TC Helicon |
| Weight | 3.0000 |
| Dimensions (WxHxD) | No |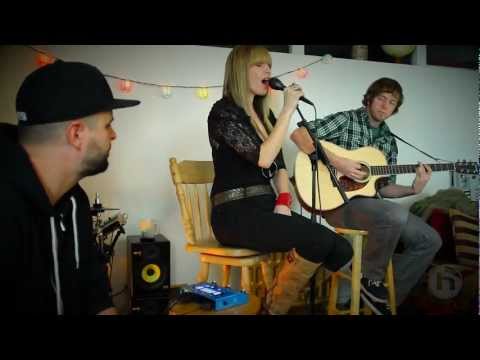 Recommended Accessories