Spitfire The Grange
Fast Electronic Delivery. You will receive an email (usually within 24 hours) with your download URL and serial #. If you need the code faster, please call us for expedited delivery.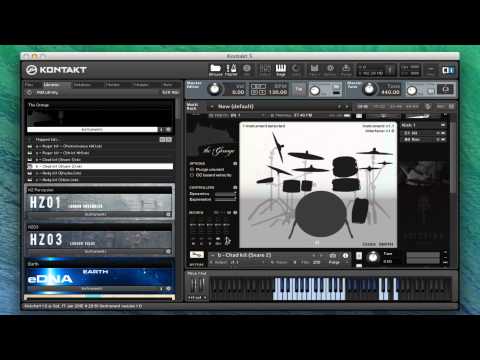 Product Description for the Spitfire The Grange
THE GRANGE HISTORIC ROCK DRUMS
Spitfire creates rock history with three legendary drummers recorded at one legendary location. A new benchmark in drum sampling, this is an anthology of playable kits and an exhaustive selection of searing loops all with sympathetic mixing options.
Spitfire proudly presents three legendary drummers recorded in one legendary location… Headley Grange. Anyone with a modicum of historical rock music knowledge knows that this former Victorian workhouse, a private — some say haunted — residence nestled in the heart of England's rural Hampshire, has played host to some of the most influential Sixties and Seventies recording artists that this country has produced, with fellow Brits Bad Company, Fleetwood Mac, and Genesis all spending some productive time there. This unassuming family home really made its mark on the rock music map with the timely arrival of the legendary Led Zeppelin, who made some remarkable recordings there when writing parts of their eponymous Led Zeppelin III and Led Zeppelin IV albums, as well as their Houses Of The Holy and Physical Graffiti fifth and sixth album followups, between 1970 and 1975. Indeed, it was here in 1971 that producer Andy Johns and drummer John Bonham conspired to create what has come to be regarded as the definitive rock drum sound for Led Zeppelin IV closer 'When The Levee Breaks'. Sampled (early on by British synthpop pioneers Depeche Mode and many more since) and long since imitated on a legion of rock recordings, Roger Taylor of Queen — no stranger to distinguished drumming himself — has described it thusly: "It was the benchmark — the sound that so many people strived for. It just sounded like thunder. We were like, 'Wow!'".
It has been 40 years since the house was used for such thunderous activity so it is with great honour that we, Spitfire Audio were invited in to make one last set of recordings. With such a historic burden resting on our shoulders we set about assembling the best cast and crew for such an endeavour.
The Grange is an exhaustively produced drum library that aims to pick up where those legendary bands left off. To see what other legendary drummers would make with the space and their searing talent and to see what new definitive and classic sounds could be made in this hallowed space. We welcome Chad Smith of the Red Hot Chili Peppers, Roger Taylor Of Queen, and dance stalwart Andy Gangadeen whose numerous percussive adventures include work with Massive Attack, Chase & Status, Rudimental and Labrinth.
Spitfire Audio achieved the unthinkable by convincing the owners of Headley Grange to allow an assembled crew of outstanding talent to record a final set of sublime sessions spread over a five-day productive period during summer 2014 — remarkable, really, since nothing had been recorded there for 40 years prior to those doors being opened one more time. With a remote recording studio set up ready to capably capture this once-in-a-lifetime opportunity to work with three of the best drummers in the world, when arriving at The Grange to do what he does best Red Hot Chili Peppers' Chad Smith duly declared, "I'm home!" He then promptly proceeded to kiss the floor of the hallowed hall before playing his heart out! As an ardent fan of Led Zeppelin and John Bonham, it only seemed fair that Smith should be the first to follow in Bonham's footsteps and subsequently set about creating an awesome set of loops, breaks, beats, and multi-sampled hits for future generations of music-makers to incorporate into their own productions. The following day saw Spitfire Audio's privileged production team being joined by rock royalty incarnate as Queen's Roger Taylor delivered some highly distinguished drumming thunder of his own in that same space. He will rock you, indeed!
Completing this triumvirate of percussive power, session stalwart Andy Gangadeen (Massive Attack and many more). As one of the most popular drummers in the UK — one whose interest in electronics led him to develop techniques allowing programmed sounds to be realised live through his kit, Gangadeen genuinely succeeded in bringing his own unique percussive take to The Grange, gushing, "It's a once-in-a-lifetime opportunity to be in this space — something that will never leave me, so thank you!"
Working with these three outstanding performers permitted Spitfire Audio to ultimately create a modern-sounding, versatile set of superlative samples, recorded via a combination of the finest and rarest classic mics, preamps, and a two-inch 24-track Studer multitrack recorder, ready to be transformed into a flexible sample-based virtual instrument to die for. For it was always Spitfire Audio's artistic intention to professionally pick up the Headley Grange recording baton where those influential recording artists had long since left off and forge forward to sow the seeds of something new — namely, a definitive drum sound for music-makers the world over. The result? Historic sampling for the future is now here for anyone to hear in THE GRANGE. Getting his hands on a beta version, Spitfire Audio Director Christian Henson — an award-winning composer in his own right— had this to say: "At last here is a drum library that sounds like a standout set of recordings and performances — the kind of drum sound that would make you put down your newspaper if it were to come on the radio. As with all Spitfire Audio products, we endeavour to have things spring out of the box, but with this one it violently kicks its way out, violating your senses in all the right ways! The library is a combination of three deeply sampled kits with every hit played by three drumming legends alongside an embarrassment of grooves, loops, phrases, and rolls. Spitfire Audio's decade-long experience in building the finest sample instruments in the world delivers also on a classy, easy-to-use interface that allows you to tweak away with ease."
Features
INSTRUMENTS
Easy Tweaks- Mixed stems that allow you instantly tweak the sound.
Kit Mics - These are your close mics, use these to create your finely tweaked multi tracks.
Mixes - These are your sublime, spring-out-of-the-box mixes prepared for you by Nick Taylor.
Stereos - These are different ambient signals that you should use in conjunction with your kit mics to create your next award winning recording.
PERSPECTIVES, MIXES & MICS
A QUICK KEY TO WHAT DIFFERENT PERSPECTIVES, MIXES AND MICS WE'VE PROVIDED YOU WITH:
MIXES
T - Tight
M - Mid
E - Epic
St - Super Tight (Andy's kit only)
KIT MICS
K - Kick
Sn - Snare
HH - Hi Hat
To - Toms
STEREO PERSPECTIVES (WHICH YOU SHOULD USE IN CONJUNCTION WITH YOUR KIT MICS)
T - Tight Ambient Mics
G - Ground Floor Ambient Mics
E - 1st Floor Ambient Mics
E - 2nd Floor Ambient Mics
| | |
| --- | --- |
| SKU | SPI-THEGRANGE |
| Brand | Spitfire |
| Weight | 1.0000 |
| Dimensions (WxHxD) | No |