Spitfire Rare Groove Elec Piano
Fast Electronic Delivery. You will receive an email (usually within 24 hours) with your download URL and serial #. If you need the code faster, please call us for expedited delivery.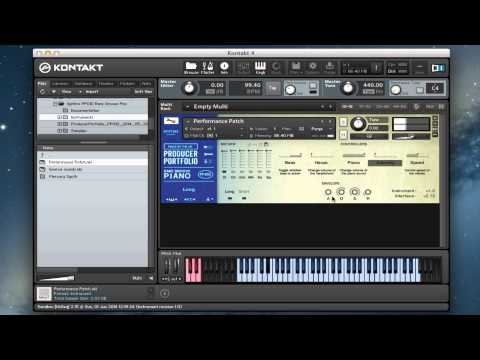 Product Description for the Spitfire Rare Groove Elec Piano
PP010 RARE GROOVE E. PIANO SUPER MONO ELECTRIC PIANO
If rare groove is your bag, this vintage and super primitive Vox electric piano, finger bass and electro-harpsichord will be a vital addition to your funk arsenal.
We've been trying to get our hands on one of these for years. But its raw simplicity is not for all tastes... We however feel this ultra naive, ultra basic sounding electric piano is also ultra cool. It's not the kind of thing you want a computer to synthesize for you. Which is why we've recorded it beautifully to maintain all those round edges and subtle idiosyncrasy. We've sampled it in great detail and in "Super Mono" with a number of very cool mixable signal paths.
This 1960's Vox electric piano has been given a total Spitfire "once-over" (8940 samples / 6.72 gb!!) with us poring over sampling the unit to give you as close a replication of the sound of the original via the finest Neve Pre-Amps and Cranesong AD converters. Alongside a host of additional signal paths via rarefied vintage outboard that fit with the style of the instrument.
As the Vox E.P. doesn't sound the same every time you play it we have painstakingly recorded it with numerous round robins. We have isolated each sound first the piano, harpsichord and then bass and scripted a mixer that behaves just as it does on the instrument itself. Mix and blend the Harpsichord and Piano, or switch in the Bass to play in split keyboard mode, which you can then mix and blend.
We have modelled the vibrato found on the instrument and have given you both intensity and speed controls for this.
Vintage outboard signal paths include a Telefunken Spring Reverb, a Roland Dimension D specially shipped from Japan, re-amping into a Marshall JCM2000 via BBC Coles ribbon mics, and the modern classic that is the Thermionic Culture Vulture.
Part of the Producer Portfolio which answers requests for drier sounding more manipulable samples, for more non-orchestral material, and for libraries that are affordable to all. Recorded by the Spitfire team in a number of smaller but excellent London studios, including the new Spitfire HQ in King's Cross and their old favourite, the classic vintage studio Air-Edel in Marylebone. With a useful selection of classic/ vintage, modern, broad and room microphones, the Producer Portfolio features the talents of legendary musicians, producers, composers and programmers. With Spitfire's existing orchestral and definitive ranges, we're very proud of the "impression" that the hall at Air studios gives, but it's not right for every application. With this new range, we have recorded in smaller spaces, close, mid range and room perspectives with carefully positioned 'A class' mics and pre-amps to give you the raw materials you need to make these sounds your own.
Features
THE OVERVIEW PANEL : Gives you a quick and easy way to access, view and load the different articulations, mic mixes and essential controller functions which you can then re-assign to suit your workflow.
GENERAL CONTROLS PANEL : A deeper but still simple UI panel that allows you to tweak the general settings. How many round robins you would like and how you would like them to behave. How would you like memory to be organised alongside pitch options and how velocity works.
THE OSTINATUM : Quite simply a little inspiration machine. Not quite an arpegiattor, not quite a sequencer. This intuitive device allows you to build up complex patterns that react to your playing to achieve wild systems results tantalising Zimmeresque tension beds or cheeky multi-tonguing effects!
INSTRUMENTS
Piano / Harpsichord / Bass Combi - Long / Short
Piano - Long / Short
Harpsichord - Long / Short
Finger Bass - Long / Short
plus Mercury Synth Versions
MIXES
Cl - DI via Neve pre-amps and Cranesong A/D
Dist - One of the filthier distortion settings of the Thermionic Culture Vulture
Sa - One of the more saturated distortion settings of the Culture Vulture
Ch - Chorus via a vintage Roland Dimension D specially shipped from Japan
Sp - Spring - A Reverb return from a vintage Telefunken Spring unit
MK - Mixer King - A Guitar summing mixer with one previous owner Jimi Hendrix
| | |
| --- | --- |
| SKU | SPI-RAREGROOVEELECPIANO |
| Brand | Spitfire |
| Weight | 1.0000 |
| Dimensions (WxHxD) | No |