Spitfire Plucked Piano
Fast Electronic Delivery. You will receive an email (usually within 24 hours) with your download URL and serial #. If you need the code faster, please call us for expedited delivery.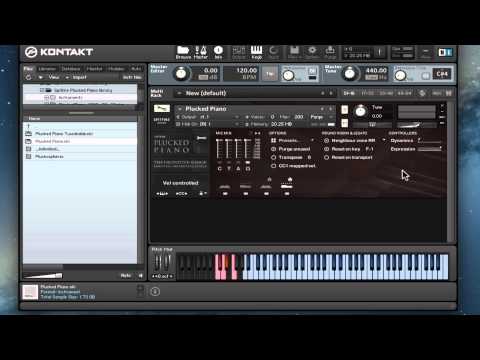 Product Description for the Spitfire Plucked Piano
Paul Thomson leant over the sound board of this large concert grand piano and literally plucked and picked his nails and fingers into a manicurist's nightmare. Coupled with Spitfire's ability to produce and curate samples that sparkle with life, whilst being able assemble and script an instrument that just works "out of the box", the Plucked Piano module is a must have for any respectable composer in need of something "different".
Spitfire's Definitive Range aims to offer the world a one-stop shop for classic and esoteric instruments played by the greats. As all these instruments are recorded in situ, in the same room, they're designed to lock together sonically whether it be some timpani from the percussion range coupled with your Sable libraries. Or indeed a more curious band made up of the Hg20, a plucked piano and a harp, it is designed to sound like they're together in the same room.
We provide a series of detailed mixing options that allow you to dry the sound up or make it more ambient, whilst preserving the acoustic integrity and perspective of a consistent microphone set up and room configuration. The instruments are all sampled in great detail but designed to play easily out-of-the-box, with simple integration into larger arrangements and templates without risk of demanding too much from your system resources.
Recorded by Jake Jackson at Lyndhurst Hall – Air Studios, on one of the finest scoring stages in the world, through an array of vintage microphones via Neve "Montserrat" pre-amps, to a beautifully serviced Studer 2" tape machine and then into digital at 96k via Prism AD converters: this is an unparalleled signal chain.
Features
As composers we're always on that quest to find a "lead" string instrument that does the job of a piano, harp, or guitar without sounding like one, without having the stereotypical association. Or indeed that can play like a dulcimer or cimbalom, but doesn't have the geographical connection or insinuation. So Spitfire took quarter of a million pounds' worth of concert grand heard on countless film scores from Harry Potter to Inception, and... well, we plucked it.

We recorded both to tape and to digital, and these are selectable from the front panel. The two dynamics - a softer fingerpad pluck, and the louder hard nail pluck, are either CC or velocity controllable as seperate 'dynamic layers', but can also be blended into one smooth continuous layer controllable again via CC or velocity.

The library is presented with four microphone positions which you can not only mix and blend to fit the application you're working on, but also automate for dramatic shifts in focus and depth. They're also fully output assignable for surround and 5.1 use. The definitive range is designed to fit in with Spitfire's entire orchestral canon, including Albion, BML and some of the Signature Range as if they're performing in the same room at the same time.

We also included 'Pluckospheres' - a beautiful collection of organic pad, atmos and strike tones and timbres in our Mercury Synth engine.
| | |
| --- | --- |
| SKU | SPI-PLUCKEDPIANO |
| Brand | Spitfire |
| Weight | 1.0000 |
| Dimensions (WxHxD) | No |