Spitfire Olafur Arnalds ComposerTK
Fast Electronic Delivery. You will receive an email (usually within 24 hours) with your download URL and serial #. If you need the code faster, please call us for expedited delivery.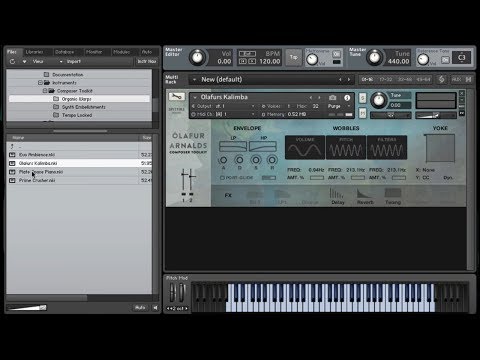 Product Description for the Spitfire Olafur Arnalds ComposerTK
So many virtual instruments libraries are created with the art of production in mind. Olafur and the Spitfire team created a more nuanced brief here with the writer at heart. Everyone has that piano, that guitar that instrument they love to write on, everyone has that place that inspires them. "What if we could create a set of tools that could enable anyone to take an inspiring collection of instruments recorded in an inspiring setting to write with anywhere?" they asked themselves.
Olafur then conceived what would be his staple set of sounds that could enable him to continue to produce original, inspiring and moving music wherever he was in the world. Spitfire is proud to present Olafur's Composer Toolkit
A crack team of Spitfire technicians, musicians and engineers descended on Olafur's studio in Reykjavik to work closely with the BAFTA winning composer to capture the essence of Arnald's approach to harnessing the spirit of his surroundings.
Centred around a deep sampled 'felted' antique grand recorded ultra quiet via Olafur's vintage outboard. The levels of recording were so hyped that everyone in the room had to hold their breaths for the duration of every sound. This piano is accompanied by what can only be described as a gift selection of go-to sounds personally programmed and curated by the man himself.
This is the second Spitfire collaboration with BAFTA-winning, multi-instrumentalist and producer Ólafur Arnalds who mixes strings and piano with loops and edgy beats crossing over from ambient/electronic to pop. In 2009, Ólafur came together with another Icelandic native, Janus Rasmussen to form an experimental techno project, called Kiasmos. And in 2014 Ólafur announced his electronic debut album under the Kiasmos project.
Ólafur gained huge notoriety with a new audience for his BAFTA-winning score featuring haunting strings, pianos and electronics for the British crime drama, Broadchurch. He has drawn heavily on the techniques he explored for that project for this selection of evolutions.
Features
The main feature of the library is a 1904 Beckstein grand piano, which Ólafur has customised, after several tests using various strips, with a single piece of felt. This was sampled in meticulous detail over several days to capture the subtle nuances of the softest layers. The felt piano is presented with 4 unique signals; KM84, Coles, Processed and Spaced. The KM84 signal is the pure sound of the small condensers in place, giving a tight crisp sound to the piano. The Coles is a mono signal below the soundboard, processed through a Roland Space Echo as a LoFi tape simulation to give a gritty low end. The processed signal is a mix of the KM84s with a pair of C12s, mixed by Ólafur into a pair of Pultec EQs and finally slammed through a 1178 stereo compressor to give the distinctive Arnalds sound. This processed sound has been paired with a 'Spaced' sound in a 'Mixed' patch that Ólafur has further processed to give a truly unique take on his signature piano.
To accompany this inspirational instrument, Ólafur has created numerous sonic manipulations of the original piano as well as individual instruments to provide instant aural inspiration. With nearly 100 presets, neatly presented by type, the library contains more than enough to allow musical creativity to flow, all presented in Spitfire's Mercury synth engine.
| | |
| --- | --- |
| SKU | SPI-OLAFURARNALDSCOMPKIT |
| Brand | Spitfire |
| Weight | 1.0000 |
| Dimensions (WxHxD) | No |