Spitfire Kitchenware Metal
Fast Electronic Delivery. You will receive an email (usually within 24 hours) with your download URL and serial #. If you need the code faster, please call us for expedited delivery.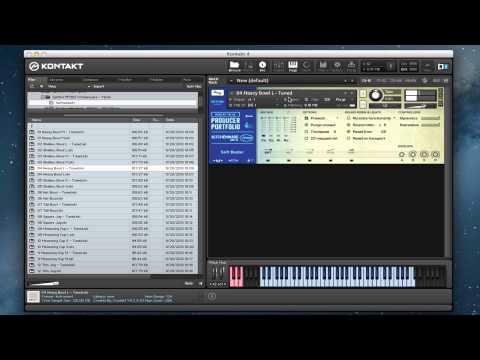 Product Description for the Spitfire Kitchenware Metal
KITCHENWARE - METAL METAL GEAR MELODIC
An extraordinary collection of metal kitchenware meticulously recorded with a selection of beaters to create a library of tuned percussion from another world.
Sampled from 12 specially selected bowls, jugs and cups, with a variety of both simple and complex harmonic sonority. This sound set will provide you with hours of inspiration, whether it be creating and layering top lines, making complex contrapuntal systems sequences, or metallic bell like sound scales. Lengthen the attack for whispy pads, tune down and up to radically change the harmonic characteristics, and use a host of specially selected internal effects to make this magical instrument your own.
Inspired by the legends Steve Reich, Kraftwerk, Tangerine Dream, Brian Eno and the score for 'Solaris' by Cliff Martinez, Christian Henson, with his brother Joe many moons ago developed, in his own noisy flat in Soho, a private library of tapped, struck and flicked kitchenware. This became a go-to resource for Christian in times of trouble and creative dry patches. It became much admired by colleagues and fellow composers and so Christian (who had by this point started working with Paul Thomson), decided to record a commercial version in a central London location; as the original samples contained too much of the background bucolic atmosphere of soho for modern broader tastes! But Paul, Joe and Christian decided this was too good to give away and.... regrettably (even after having announced its imminent release in a very early iteration of this website) they sat on it like three greedy sample Gollums. They feature heavily in a number of film and TV shows, most notably in Henson's score for The Secret Of Moonacre.
Experience has since shown that the best way to develop samples is to share. Corners aren't cut, and broader applications are considered. So Paul, Christian and the Spitfire team, freshly unpacked in their new Kings Cross location with ultra quiet recording spaces went back to the drawing board and developed another new Kitchenware range, more carefully sampled with a wider selection of beaters and mic perspectives.
An extensive library of Metalware: 2.2 GB compressed data from over 6.3GB in WAV format and over 3100 samples. With up to 3 dynamic layers and 5 round robins per instrument, including a variety of easily switchable beaters and techniques, including finger nail flicks and slaps.
Part of the Producer Portfolio which answers requests for drier sounding more manipulable samples, for more non-orchestral material, and for libraries that are affordable to all. Recorded by the Spitfire team in a number of smaller but excellent London studios, including the new Spitfire HQ in King's Cross and their old favourite, the classic vintage studio Air-Edel in Marylebone. With a useful selection of classic/ vintage, modern, broad and room microphones, the Producer Portfolio features the talents of legendary musicians, producers, composers and programmers. With Spitfire's existing orchestral and definitive ranges, we're very proud of the "impression" that the hall at Air studios gives, but it's not right for every application. With this new range, we have recorded in smaller spaces, close, mid range and room perspectives with carefully positioned 'A class' mics and pre-amps to give you the raw materials you need to make these sounds your own.
Features
THE OVERVIEW PANEL
Gives you a quick and easy way to access, view and load the different articulations, mic mixes and essential controller functions which you can then re-assign to suit your workflow.
GENERAL CONTROLS PANEL : A deeper but still simple UI panel that allows you to tweak the general settings. How many round robins you would like and how you would like them to behave. How would you like memory to be organised alongside pitch options and how velocity works.
THE OSTINATUM : Quite simply a little inspiration machine. Not quite an arpegiattor, not quite a sequencer. This intuitive device allows you to build up complex patterns that react to your playing to achieve wild systems results tantalising Zimmeresque tension beds or cheeky multi-tonguing effects!
12 HAND PICKED INSTRUMENTS
PRESENTED TUNED TO 440 AND 'AU NATURAL'..
01 Heavy Bowl M - Tuned
01 Heavy Bowl M
02 Shallow Bowl L - Tuned
02 Shallow Bowl L
03 Shallow Bowl M - Tuned
03 Shallow Bowl M
04 Heavy Bowl L - Tuned
04 Heavy Bowl L
05 Shallow Bowl S - Tuned
05 Shallow Bowl S
06 Hat Bowl - Tuned
06 Hat Bowl
07 Tall Bowl - Tuned
07 Tall Bowl
08 Square Jug - Tuned
08 Square Jug
09 Measuring Cup L - Tuned
09 Measuring Cup L
10 Measuring Cup S - Tuned
10 Measuring Cup S
11 Measuring Cup M - Tuned
11 Measuring Cup M
12 Thin Jug - Tuned
12 Thin Jug
MICROPHONES
Close
Close Ribbon
Overheard
Room Perspective
Esoteric
| | |
| --- | --- |
| SKU | SPI-KITCHENWAREMETAL |
| Brand | Spitfire |
| Weight | 1.0000 |
| Dimensions (WxHxD) | No |