Spitfire HZ02 Hans Zimmer Perc LA
Fast Electronic Delivery. You will receive an email (usually within 24 hours) with your download URL and serial #. If you need the code faster, please call us for expedited delivery.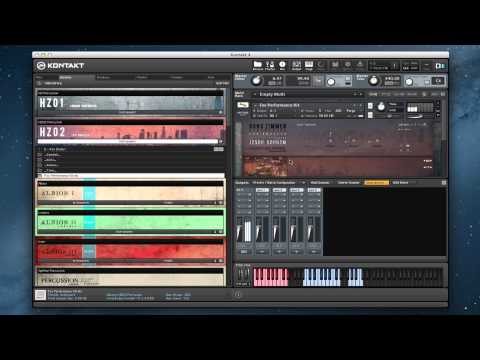 Product Description for the Spitfire HZ02 Hans Zimmer Perc LA
HZ02 - LOS ANGELES AAA EPIC DRUM KIT
Hans Zimmer presents rock aristocrat Jason Bonham playing his enormous sounding DW Vistalite kits at legendary locations in Los Angeles, alongside more exclusive Zimmer gems.
The ultimate epic kit, played by the ultimate epic drummer, in 3 epic locations produced by the godfather of epic; multi award winning composer, producer and sound-smith Hans Zimmer.
HANS ZIMMER is one of the most successful, influential and prolific film composers of his generation. Having won countless awards (including an Oscar accompanied by an embarrassment of academy nominations). HZ's scores have underscored a generation of hugely successful films, that have turned over billions of dollars, countless awards and critical acclaim. Hans has defined not only a compositional style, but also production approach and sonic innovation that has influenced a generation of composers.
Spitfire Audio are delighted and honoured to present a series of products produced by a legend and his diamond class team of Grammy winning engineers, musicians and technicians. Where Hans Zimmer's style and approach to sonic creation is often copied or emulated, we're proud to present to the world at large HZ's definitive take on his trailblazing approach to cinematic percussion production. Herein lies not an emulation or synthesis of his approach, but a recreation. The same studio, musicians, instruments, signal chain and talented engineers, sitting alongside a decade of experience, innovation and refinement overseen in every detail by Hans himself. The same excruciating attention to detail, perfection but most importantly the endless choice for tweak-ability and customisation you'd expect of the greatest of sonic artists.
HZ02 - Los Angeles, features Jason Bonham on his exclusive DW Vistalite kit recorded at the legendary "Newman" Stage at 20th Century Fox, The Sony Scoring Stage and an enormous space on Hans' own lot dubbed "The Cathedral". Recorded and mixed both in stereo and 5.1 (surround) by multi Grammy winning engineers; Alan Myerson, Steve Lipson and Geoff Foster. The library also features some exclusive extra content created by Hans himself. This is the ultimate follow up to our multi award winning London percussion anthology. Recorded deep (29,477 samples, 35.6 hours, 34.3 GB WAV format, 22.7 GB NCW compressed format (stereo only, 5.1s coming soon!)) as per Hans' direction with multiple round robins, dynamic layers, beater types and playing styles. With GUIs and scripting designed back in London by the finest sample developers in the world.
Features
GM Performance Kit (basic mapping of core kit parts)
Snares (Variations of snares with varying sticks)
Cymbals (Varations of cymbals with various sticks)
Hihats
Kicks
Toms
Rides
20TH CENTURY FOX KIT
CRASH
Bell - Sticks
Choke Hits - Stick
Choke Hits - With Kick
Crescendo - Stick
Hits - Felt Mallet
Hits - Stick
Hits - With Kick BR1
CRASH RIDE
Bell Hits - Stick
Choke - Stick
Choke With Kick - Stick
Hits - Felt Hits - Stick
Hits - With Kick
Swells - Felt Mallet BR1
DUAL COMBO
Crescendo
Swells - Mallet
HI HAT
Bell Hits
Closed Hits
Closed Side Hits - Bamboo
Closed Side Hits
Closed Top Hits - Bamboo
Half Open Top Hits
Open Bell Hits
Open Hits
Pedal Close Hits
Pedal Crash Hits
Stomp Kick Long
Stomp Kick Short
RIDE
Bell - Stick
Hits - Felt Mallet
Hits - Stick
Swell - Sustained
Swells - Felt Mallet
Swells - Sticks
With Kick - Choked
With Kick - Ringing
KICK
Flams - 2nd Beater
Flams Snare Wall - 2nd Beater
Hits - 1st Beater
Hits - 2nd Beater
Hits Snare Wall - 1st Beater
Hits Snare Wall - 2nd Beater
Hits Snares Off - 1st Beater
Hits Snares Off - 2nd Beater
NEWMAN BASS DRUM
Newman Bass Drum - Dolls Head Hits
SNARE - ALT
Center Edge Flams - Snare Off
Center Rim Hits - Snare On
Crescendo - Snare On
Edge Hits - Snare Off
Flams - Snare Off
Flams - Snare On
Ghost - Snare Off
Ghost - Snare On
Hits - Snare Off
Hits - Snare On
Rim Edge Flams - Snare On
SNARE MAIN
Angle Hits
Center and Edge Hits
Center Edge Hits
Center Flams - Bamboo
Center Flams - Bamboo Snares Off
Center Flams - Felt Mallet
Center Flams - Felt Mallet Snares Off
Center Flams - Snares Off
Center Flams
Center Ghost - Bamboo
Center Ghost - Bamboo Snares Off
Center Ghost - Felt Mallet
Center Ghost - Felt Mallet Snares Off
Center Ghost - Snares Off
Center Ghost
Center Rim Hits - Bamboo
Center Rim Hits - Bamboo Snares Off
Center Rim Hits - Snares Off
Center Rolls - Felt Mallet
Edge Hits - Bamboo Snares Off
Edge Hits - Snares Off
Hits - Bamboo
Hits - Bamboo Snares Off
Hits - Felt Mallet
Hits - Felt Mallet Snares Off
Hits - Snares Off
Hits
Rim Flams
Rim Shot
Rolls - Felt Mallet Snares Off
Rolls - Snares Off
Rolls
Side Hits
HIGH TOM
Big Hits
Flams - Bamboo
Flams - Felt Mallet
Flams
Hits - Bamboo
Hits - Felt Mallet
Hits
Rolls - Felt Mallet
LOW TOM
Big Hits
Flams - Bamboo
Flams - Felt Mallet
Flams
Hits - Bamboo
Hits - Felt Mallet
Hits
Rolls - Felt Mallet
MID TOM
Big Hits
Flams - Bamboo
Flams - Felt Mallet
Flams
Hits - Bamboo
Hits - Felt Mallet
Hits
Rolls - Bamboo
SONY STAGE
CRASH
Crescendo
Grab Hits
Hits
CRASH CRASH RIDE
Crash Crash Ride Hits
CRASH RIDE
Crescendo
Hits
HI HAT
Clap
Closed Hits - Side
Closed Hits - Top
Half Open Hits
Open Close Hits
KICK
Hits
PRACTICE KICK
Hits
RIDE
Bell Hits
Hits
SNARE
Center Rim Hits
Chains Off
Hits
TOM HITS
Hi Tom
Low Tom
Mid Tom
RCP CATHEDRAL
CRASH
Crescendo - Mallet
Crescendo
Grab
Hits
Stomp Grab
Stomp Hits
CRASH RIDE
Crescendo - Mallet
Crescendo
Hits - Bell
Stomp Grab 2
Stomp Grab
Stomp Hits BR1
DW SNARE
Center Rim Hits - Bamboo
Center Rim Hits - Bamboo Chain
Center Rim Hits - Bamboo No Chain
Center Rim Hits
Flams - Rim
Flams
Ghost Notes
Ghost Sticks
Head Edge Hits - Bamboo
Hits - Bamboo
Hits - Bamboo Chain
Hits - Bamboo No Chain
Hits
Rolls - Bamboo
Side Stick Hits
Side Stick Hits
HI HATS
Bell Hits
Chuck Hits
Half Open Hits
Open and Close Hits
Open Hits - Bamboo
Open Hits
Side Closed Hits - Bamboo
Side Closed Hits
Smash Hits
Stomp Grab
Top Closed Hits - Bamboo
Top Closed Hits
HI TOM
Flams - Bamboo
Flams - Felt
Flams
Hits - Bamboo
Hits - Felt
Hits
Rolls - Felt
KICK 1
1st Beater - Hits
2nd Beater - Hits
Flams
KICK 2
1st Beater - Hits (Snares Off)
1st Beater - Hits
2nd Beater - Hits (Snares Off)
2nd Beater - Hits
Flams (Snares Off)
Flams
KICK 3
1st Beater - Hits
2nd Beater - Hits
Flams
LA BRASS SNARE
Center Hits - Bamboo
Edge Hits - Bamboo
Flams - Bamboo
Flams - Rim
Flams
Ghost Notes - Bamboo
Ghost Notes
Hits - Rim - Angle
Hits - Rim - Edge
Hits - Rim - Flams
Hits - Rim - Mid
Hits - Rim
Hits - Side
Hits
Rolls
LA BRASS SNARE TUNED
Flams - Rim
Flams
Grace Notes
Hits - RCE
Hits - Side
Hits
LOW TOM
Flams - Bamboo
Flams - Felt
Flams
Hits - Bamboo
Hits - Felt
Hits
Rolls - Felt
MAPLE SNARE
Center Rim Hits - Bamboo
Center Rim Hits
Flams - Bamboo
Flams
Ghost Notes - Bamboo
Ghost Notes
Hits - Bamboo
Hits
MAPLE SNARE TUNED DOWN
Center Rim Hits - Mallet
Ghost Hits - Mallet
Ghosts Short - Mallet
Hits - Mallet
MID TOM
Flams - Bamboo
Flams
Hits - Bamboo
Hits
Rolls - Felt
NO CHAIN SNARE
Flams - Felt
Hits - Felt
Rolls - Felt
RIDE
Bell Hits
Crescendo - Mallets
Grab
Hits - Mallet
Hits
Stomp Grab
Stomp Hits
MICS & MIXES
GEOFF FOSTER
Close Mix
Gated Mix
Room Mix
Overhead Mix
5.1 Mix*
ALAN MYERSON
Close (LCR) & ST)
Room (LCR & ST)
LFE (for 5.1 use)
Ambient (ST ideal for surrounds)
STEVE LIPSON
Stereo Mix
5.1 Mix*
| | |
| --- | --- |
| SKU | SPI-HZO2 |
| Brand | Spitfire |
| Weight | 1.0000 |
| Dimensions (WxHxD) | No |