Spitfire Frank Ricotti Marimba
Fast Electronic Delivery. You will receive an email (usually within 24 hours) with your download URL and serial #. If you need the code faster, please call us for expedited delivery.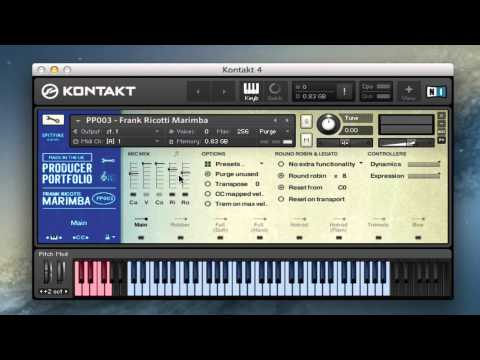 Product Description for the Spitfire Frank Ricotti Marimba
FRANK RICOTTI - MARIMBA MARIMBA OF THE GODS
Frank Ricotti, a living legend, performs on a world class Marimba. Deep sampled with a number of beaters and playing styles to give you ultimate control and inspiration.
To match the stunning and much talked about marimba found in our full Orchestral Percussion range: at last a dry version suitable for all applications played by a true master, Frank Ricotti.
Frank Ricotti is a living legend. Beyond being one of the most in demand percussionists in the world for the top recording artists, he has played on innumerable film scores such as Inception, Skyfall, Twilight Saga, Madagascar, Interstellar, Narnia, Fantastic Mr Fox, Dark Knight, Bourne series.. There isn't an hour in the day where, somewhere in the world, his playing isn't being broadcast.
The marimba is a direct descendant of the xylophone and looks very much like its ancestor. Although composers have written extensively for this instrument only since 1950, it has recently started to come into its own as part of the contemporary orchestra. The marimba's rosewood bars, also arranged in the keyboard fashion, are of course graduated, but thinner, longer, and wider than the xylophone's, and the resonators have always been part of its construction. The playing technique is identical to the xylophone's, but the marimba's mellower, deeper sound has generated a different kind of music. The size and range of the marimba is fairly standard (although the range of some marimbas goes down to A2 or even F2), and there are no transposition problems since it sounds an octave lower. The music can be notated on one or two staffs, in either the treble or bass clef.
The lower register of this instrument is unique and especially beautiful; in the higher registers, the marimba's tone resembles the xylophone's. The most successfully used mallets for the marimba are those made of yarn or soft rubber.
Recorded at Air-Edel Studios, one of the few remaining recording spaces in London's west end, Spitfire has sampled a pristinely maintained Marimba (with bass octave extension) in detail with up to 8 round robins, 4 dynamic layers, with a number of beaters, techniques and from a number of perspectives.
Part of the Producer Portfolio which answers requests for drier sounding more manipulable samples, for more non-orchestral material, and for libraries that are affordable to all. Recorded by the Spitfire team in a number of smaller but excellent London studios, including the new Spitfire HQ in King's Cross and their old favourite, the classic vintage studio Air-Edel in Marylebone. With a useful selection of classic/ vintage, modern, broad and room microphones, the Producer Portfolio features the talents of legendary musicians, producers, composers and programmers. With Spitfire's existing orchestral and definitive ranges, we're very proud of the "impression" that the hall at Air studios gives, but it's not right for every application. With this new range, we have recorded in smaller spaces, close, mid range and room perspectives with carefully positioned 'A class' mics and pre-amps to give you the raw materials you need to make these sounds your own.
Features
THE OVERVIEW PANEL : Gives you a quick and easy way to access, view and load the different articulations, mic mixes and essential controller functions which you can then re-assign to suit your workflow.
GENERAL CONTROLS PANEL : A deeper but still simple UI panel that allows you to tweak the general settings. How many round robins you would like and how you would like them to behave. How would you like memory to be organised alongside pitch options and how velocity works.
THE OSTINATUM : Quite simply a little inspiration machine. Not quite an arpegiattor, not quite a sequencer. This intuitive device allows you to build up complex patterns that react to your playing to achieve wild systems results tantalising Zimmeresque tension beds or cheeky multi-tonguing effects!
INDIVIDUAL PATCHES
PP003 - Frank Ricotti Marimba - Bows
PP003 - Frank Ricotti Marimba - Full (Hard)
PP003 - Frank Ricotti Marimba - Full (Soft)
PP003 - Frank Ricotti Marimba - Hotrod (Flams)
PP003 - Frank Ricotti Marimba - Hotrod
PP003 - Frank Ricotti Marimba - Main
PP003 - Frank Ricotti Marimba - Rubber
PP003 - Frank Ricotti Marimba - Trems
FX PATCHES
PP003 - Frank Ricotti Marimba FX - Dino 1
PP003 - Frank Ricotti Marimba FX - Dino 2
PP003 - Frank Ricotti Marimba FX - Double Scrapes
PP003 - Frank Ricotti Marimba FX - Glisses
OTHER PATCHES
PP003 - Frank Ricotti Marimba - Economic
PP003 - Frank Ricotti Marimba - The Punch Cog
PP003 - Frank Ricotti Marimba - Time Machine
CLOSE
Close Ribbon
Overhead
Room Perspective
Esoteric
| | |
| --- | --- |
| SKU | SPI-FRANKRICOTTIMARIMBA |
| Brand | Spitfire |
| Weight | 1.0000 |
| Dimensions (WxHxD) | No |