Spitfire Frank Ricotti Crotales
Fast Electronic Delivery. You will receive an email (usually within 24 hours) with your download URL and serial #. If you need the code faster, please call us for expedited delivery.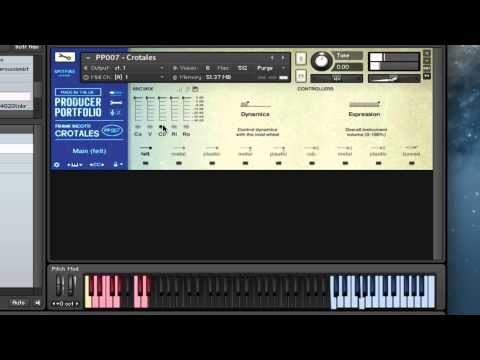 Product Description for the Spitfire Frank Ricotti Crotales
FRANK RICOTTI - CROTALES TUNED DISCS OF LIGHT
Frank Ricotti, a living legend, performs on a world class set of Crotales. Deep sampled with a number of beaters and playing styles to give you ultimate control and inspiration.
To match the stunning and much talked about tuned percussion found in our full Orchestral Percussion range: at last, a dry version suitable for all applications, played by a true master.
Frank Ricotti is a living legend. Beyond being one of the most in demand percussionists in the world for the top recording artists, he has played on innumerable film scores such as Inception, Skyfall, Twilight Saga, Madagascar, Interstellar, Narnia, Fantastic Mr Fox, Dark Knight, Bourne series.. There isn't an hour in the day where, somewhere in the world, his playing isn't being broadcast.
Crotales are small bronze disks, almost thick mini cymbals, arranged in a piano keyboard style layout to produce chromatic pitches. They are one of the brightest tuned percussion instruments and similar to a piccolo, will cut through even the biggest orchestral arrangement. With the producer range however we like to introduce music makers of all persuasions to try instruments they may never have heard of. So alongside the bright and brash elements of this library, you can also find moments of magical beauty. A great instrument that can create the feeling of a bright celeste coupled with a triangle but with none of the pre-conceived ideas or 'baggage' of either of those instruments.
Engineered by Toby Warren at Air-Edel Studios, a classic and pristinely maintained vintage studio in London's west-end, Spitfire has recorded a pristinely maintained set of world-class Crotales sampled in detail, with a number of beaters, techniques (including a very useful bowed patch) and from a number of perspectives.
Part of the Producer Portfolio which answers requests for drier sounding more manipulable samples, for more non-orchestral material, and for libraries that are affordable to all. Recorded by the Spitfire team in a number of smaller but excellent London studios, including the new Spitfire HQ in King's Cross and their old favourite, the classic vintage studio Air-Edel in Marylebone. With a useful selection of classic/ vintage, modern, broad and room microphones, the Producer Portfolio features the talents of legendary musicians, producers, composers and programmers. With Spitfire's existing orchestral and definitive ranges, we're very proud of the "impression" that the hall at Air studios gives, but it's not right for every application. With this new range, we have recorded in smaller spaces, close, mid range and room perspectives with carefully positioned 'A class' mics and pre-amps to give you the raw materials you need to make these sounds your own.
Features
THE OVERVIEW PANEL : Gives you a quick and easy way to access, view and load the different articulations, mic mixes and essential controller functions which you can then re-assign to suit your workflow.
GENERAL CONTROLS PANEL : A deeper but still simple UI panel that allows you to tweak the general settings. How many round robins you would like and how you would like them to behave. How would you like memory to be organised alongside pitch options and how velocity works.
THE OSTINATUM : Quite simply a little inspiration machine. Not quite an arpegiattor, not quite a sequencer. This intuitive device allows you to build up complex patterns that react to your playing to achieve wild systems results tantalising Zimmeresque tension beds or cheeky multi-tonguing effects!
INSTRUMENTS
INDIVIDUAL BRUSHES
PP007 - Crotales - Bowed
PP007 - Crotales - Main (felt)
PP007 - Crotales - Main (metal)
PP007 - Crotales - Main (plastic)
PP007 - Crotales - Rolls (metal)
PP007 - Crotales - Rolls (plastic)
PP007 - Crotales - Rolls (rubber)
PP007 - Crotales - Short (metal)
PP007 - Crotales - Short (plastic)
OTHER PATCHES
PP007 - Crotales - The Punch Cog
MICROPHONES
Close - Cardioid
Close - Valve
Close - Condensor
Close - Ribbon
Room
| | |
| --- | --- |
| SKU | SPI-FRANKRICOTTICROTALES |
| Brand | Spitfire |
| Weight | 1.0000 |
| Dimensions (WxHxD) | No |