Spitfire Electrophone
Fast Electronic Delivery. You will receive an email (usually within 24 hours) with your download URL and serial #. If you need the code faster, please call us for expedited delivery.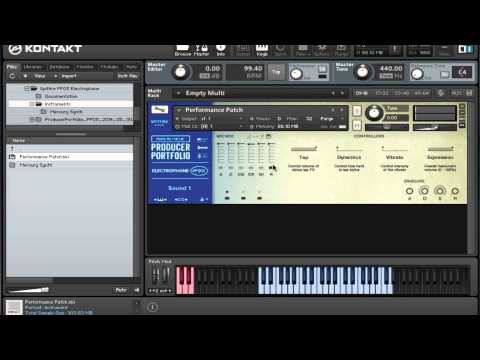 Product Description for the Spitfire Electrophone
PP011 - ELECTROPHONE BUZZY FAMILY FAVOURITE
A UK family favourite from the 1960's & 70's captured here in incredible if not absurd amount detail to create the definitive virtual version.
Alongside the rain stick, this 1960's & 70's toy has to be the number one present gifted to we musicians, producers, and composers - ironically by family members! - every Christmas. It has been known for some music makers to have a "regift" shelf dedicated to these little blighters. The thing is.... every once in a while, we actually yearn for the impossibly characterful sound this little thing makes. You scrabble around at the back of the studio: "there it is!" - but, the batteries have rusted and fused with the casing. Or the stylus has become dispossessed of the main unit (it offers value as an excellent implement to reset smaller electronic devices). So for not much more than a pack of replacement batteries we have created the definitive, stereo and POLYPHONIC! virtual version of this classic.
As the Electrophone doesn't sound the same every time you play it we have painstakingly recorded it with numerous round robins. Being sure to capture the magic of its internal speaker we have painstakingly captured the sound of the speaker and the acoustic noise of the stylus hitting the contact pad so you not only have control but velocity sensitivity both electronically (play two gently and the signal starts to cut out) and acoustically.
We have modelled the vibrato found on the instrument and have given you an intensity control for this.
The final piece of the over-engineered puzzle was to re-amp the samples via a Marshall JCM stack!!!
Part of the Producer Portfolio which answers requests for drier sounding more manipulable samples, for more non-orchestral material, and for libraries that are affordable to all. Recorded by the Spitfire team in a number of smaller but excellent London studios, including the new Spitfire HQ in King's Cross and their old favourite, the classic vintage studio Air-Edel in Marylebone. With a useful selection of classic/ vintage, modern, broad and room microphones, the Producer Portfolio features the talents of legendary musicians, producers, composers and programmers. With Spitfire's existing orchestral and definitive ranges, we're very proud of the "impression" that the hall at Air studios gives, but it's not right for every application. With this new range, we have recorded in smaller spaces, close, mid range and room perspectives with carefully positioned 'A class' mics and pre-amps to give you the raw materials you need to make these sounds your own.
Features
THE OVERVIEW PANEL : Gives you a quick and easy way to access, view and load the different articulations, mic mixes and essential controller functions which you can then re-assign to suit your workflow.
GENERAL CONTROLS PANEL : A deeper but still simple UI panel that allows you to tweak the general settings. How many round robins you would like and how you would like them to behave. How would you like memory to be organised alongside pitch options and how velocity works.
THE OSTINATUM : Quite simply a little inspiration machine. Not quite an arpegiattor, not quite a sequencer. This intuitive device allows you to build up complex patterns that react to your playing to achieve wild systems results tantalising Zimmeresque tension beds or cheeky multi-tonguing effects!
PERFORMANCE PATCH
Sound 1
Sound 2
Sound 3
SETTINGS / CONTROLS
Vibrato On / Off
Vibrato Intensity
Pen Tap Mix Level
Presets 1, 2 & 3
MIXES
A - Amp
C - Close (414s)
CD - Close 'Dirty' (SM57 against speaker)
CR - Close pair of Coles same position as 'C'
DI - Clean / Direct signal
R - Room (Schoeps pair)
| | |
| --- | --- |
| SKU | SPI-ELECTROPHONE |
| Brand | Spitfire |
| Weight | 1.0000 |
| Dimensions (WxHxD) | No |