Spitfire BML Bone Phalanx
Fast Electronic Delivery. You will receive an email (usually within 24 hours) with your download URL and serial #. If you need the code faster, please call us for expedited delivery.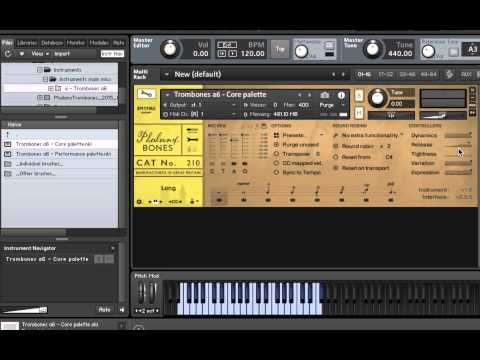 Product Description for the Spitfire BML Bone Phalanx
Sable strings we proved that small can be beautiful. With our intricate woodwind and awe inspiring brass ranges we have proven that attention to moving composition and intricate arrangement can move your listener as much as scale. But in the case of Mural, sometimes size DOES matter. We've applied this to this new set of "Phalanx" brass modules which feature large, 6 piece sections leathering it at the hall in Air-Studios.
Bone (or Trombone) Phalanx captures that unmistakable sound of a large array of brass, slides and bells (and quite a lot of spit) belting it in unison. You can't imitate the power of this. This ensemble is placed in situ around the original BML Bones Vol.1 seating, and is a sound that has to be heard to be believed.
We're never ones to stand-still, so we're pleased to announce that these new brass lines will have ingenious under-the-bonnet scripting to give you intuitive performance patches out of the box, including one that allows for playing at any speed and with the ability to pull off runs (without any keyswitching/CCing) and another experimental fanfare patch.
The British Modular Range is designed as an ultra detailed seminal, next generation orchestral range recorded with the finest musicians in the world at Air-Studios, London, England. It's primary purpose in it's hyper-detailed sampling and approach to recording is to produce something detailed and dynamic. So that the intricacies of your compositional ambitions are realised and represented. We have proven with Sable that small can be beautiful and powerful in it's emotional impact. But in the case of Mural we have also shown that, at times, size does matter. So with that in mind we're proud to present the next in our "Phalanx" series of brass epic 6 piece sections belting it in the hall.
Features
Bone phalanx complements our smaller original BML Bones Vol.1 with a commonly used epic line-up of brass that sounds so very very awesome in this amazing room. You can't imitate the power of this. The 3 tenor, 2 bass and 1 contrabass trombones are placed in situ around the original BML Bones Vol.1 placements, so if you want to go truly Wagnerian add the phalanx to our original trombone line to get 10 players! Want more? Well you can pair up the contrabass bone with the one we have HERE.

This is a self contained library that features a specially curated set of articulations for this size of section, designed by our award winning team of composers, and with the players themselves. All available with the standard and extended array of microphone mixes so you can instantly tweak the perspective of the performance space.

Bone Phalanx is designed to be bold and brash, for composers wanting an epic and masculine edge. When combined with the Trumpet and Horn phalanx you will have everything you need to make epic and fierce music ideal for blockbuster style scores and AAA games releases.
| | |
| --- | --- |
| SKU | SPI-BMLBONEPHALANX |
| Brand | Spitfire |
| Weight | 1.0000 |
| Dimensions (WxHxD) | No |