Samson Concert 88
Wireless Handheld Microphone System with Q6 Microphone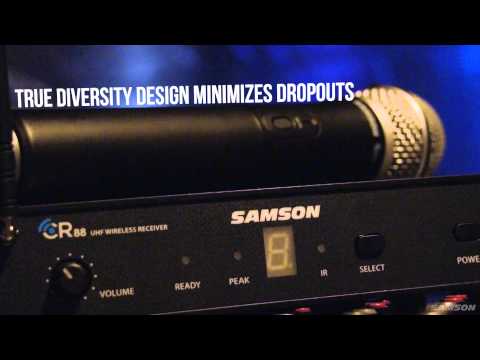 Product Description for the Samson Concert 88
Product Description
The high-performance Samson Concert 88 Handheld System provides a wireless solution for singers, business professionals and educators. When you desire mobility, the Concert 88 produces stunning sound and versatility without cables at an affordable price.

The frequency-agile Concert 88 system allows for up to 16 systems to operate simultaneously across two frequency bands with up to 300 feet separating the receiver and transmitter.
Easy-To-Use Receiver
At the core of the Concert 88 system is the CR88 Wireless Receiver. Featuring a true diversity design, the CR88 minimizes signal dropouts during performance. If a dropout does occur, the CR88's tone key and auto mute functions eliminate any background noise until the signal is restored.

The CR88 receiver's front panel provides a Select button for auto syncing receiver and transmitter channels via an infrared signal. The panel also features a 7-segment Channel LED, Volume knob, Power button, two tuned antennas, as well as Audio and Ready indicators, for optimal functionality and monitoring. Balanced XLR and 1/4-inch outputs can be found on the receiver's back panel.
Rack-Mountable with Included Kit
The CR88 receiver is a half-rack unit that can be used freestanding, or can be mounted in any standard 19 inch rack using the included rack kit, making it easy to integrate into any traveling or fixed installation audio system.
CR88 Receiver Features:
- True-diversity design minimizes dropouts
- Up to 16 systems can be operated simultaneously across two frequency bands
- Tone key and auto mute functions eliminate background noise during dropouts
- Infrared set links the receiver and transmitter channels
- Balanced XLR and 1/4-inch outputs

The Concert 88 Handheld System includes the Q6 Professional Dynamic Microphone, which features Samson's CL6 microphone element on the Samson CH88 Handheld Transmitter.


Q6 Microphone Features:
- Q6 Professional Dynamic Microphone offers up to eight hours of battery life using two AA batteries
- 300-foot operating range
- 16 available channels operating in the UHF band designed for maximum system compatibility in the same location without interference
- Tone-key and auto-mute ensures clear, interruption-free performance allowing only the transmitter's audio to pass through the receiver, and mutes the output if there is any interference

With Samson's Concert 88 Handheld System, advanced technology and total versatility combine to provide high quality wireless performance wherever singers, business professionals, educators and others need it.
Features
Concert 88 Handheld System:
High-performance professional UHF wireless system
Rack mount kit included
True diversity technology maximizes active range (up to 300 feet) and reduces potential interference

CR88 Wireless Receiver:
True diversity design minimizes dropouts
Up to 16 systems can be operated simultaneously across two frequency bands
Tone key and auto mute functions eliminate background noise during dropouts
Infrared set links the receiver and transmitter channels
Balanced XLR and 1/4-inch outputs

CH88 Handheld Transmitter/Q6 Microphone:
Transmitter offers up to eight hours of battery life using two AA batteries
300-foot operating range
| | |
| --- | --- |
| SKU | SAM-SWC88HCL6-D |
| Brand | Samson |
| Weight | 2.2000 |
| Dimensions (WxHxD) | 12" x 10" x 4" |