Pioneer XDJ-R1
2-Channel Wireless Performance DJ System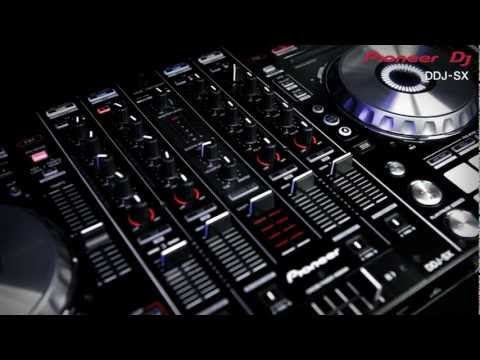 Product Description for the Pioneer XDJ-R1
The Pioneer XDJ-R1 is a complete standalone wireless home DJ system with dual CD drives, a built-in 2-channel mixer, and MIDI controls all wrapped into one. The XDJ-R1 is the most affordable entry incorporating Pioneer's USB Rekordbox music managing software, and includes high-end features taken from some of Pioneer's flagship professional DJ equipment.
Operate Various Functions With Wireless Ios Connectivity
By connecting this device via a wireless LAN connection to an iPad/iPhone/iPod touch with the special "remotebox"*2 mobile application installed, it is possible to select songs stored inside USB storage devices connected to the XDJ-R1 via the screens of these devices. In addition, it is possible to apply an "AUTO BEAT LOOP"*3 function, which automatically loops music at a specified tempo, as well as intuitively controlling various effects using the X-Y pads of devices. The back of the XDJ-R1 also features a stand for installation of iPhone/iPod touch devices at an angle conducive to easy song selection.
Support For Diverse Media And Music Formats
DJ play can be performed using a diverse range of media and music formats, including music CDs and file formats such as MP3, AAC, WAV and AIFF stored inside USB storage devices or recorded onto CD-R/RW.
The XDJ-R1 also provides MIDI support and can be used to operate various pieces of DJ software.
"BEAT SYNC" Function For One-Touch Beat Synchronization
The "BEAT SYNC" function automatically synchronizes the beats of songs that have been analyzed by the "rekordbox" music management software played on each player, simply by pressing the "SYNC" button.
Unified Structure Containing Two Players And A Mixer
The unified structure of two players and a mixer means users can DJ with this device alone. The mixer part is equipped with ports for the connection of external hardware such as CDJ players and turntables, etc., so it can also be used as an independent 2-channel mixer.
Wide Range Of Music Arranging And Mixing Functions
A combination of all kinds of effects enables simple performance of a wide range of music arrangements and mixes.
Hot Cue
The "HOT CUE" function enables instant playback from a previously specified point, simply by pressing a button. Each player can set "HOT CUES" at three points.
4 Beat Sampler
The "4-BEAT SAMPLER" function makes it possible to play recorded sampling sound sources simply by pressing a button. Sound sources can be recorded from songs on USB storage devices and CDs.
Beat Fx
Diverse forms of DJ play can be enjoyed by selecting from 4 effects (TRANS, FLANGER, ECHO, and ROLL) for each song played on each player and changing BPM and effects levels.
Sound Color Fx
Diverse forms of DJ play can be enjoyed by selecting from 4 effects (FILTER, CRUSH, PITCH, and NOISE) for each song played in each channel.
High Sound Quality Design For Clear And Powerful Dj Sound
Noise inside the XDJ-R1has been reduced by separating analog and digital circuits, and performing digital conversion of analog input signals by the shortest distance possible. All signal processing is conducted with a high-performance CPU to ensure that DJ mixes have a clear sound.
Features
Playable media : USB storage devices, music CD,CD-R/RW

Playable file formats : MP3, AAC, WAV, AIFF (only MP3, WAV and AIFF can be played from CD)

USB storage formats : Supported FAT32, FAT16

No. of channels : 2

Wireless communications format : IEEE 802.11b/g (2.4GHz band)

Sampling rate : 44.1kHz

A/D, D/A converter : 24bit

Frequency response : 20Hz~20kHz

S/N ratio : 98dB or above (USB)

Total harmonic distortion : Max. 0.006 % (USB)

Head room : 19dB

USB ports : A port × 1, B port × 1

Inputs : PHONO/LINE × 2 (RCA) MIC × 1 (1/4inch PHONE) AUX × 1 (RCA)

Outputs : MASTER OUT × 2 (XLR × 1, RCA × 1) HEADPHONE MONITOR OUT × 2 (front 1/4inch PHONE, MiniPin)

BOOTH OUT : × 1 (RCA)

Supported : OS Mac OSX (10.5.8 or above)

Windows8 : Windows8 Pro/Windows8

Windows7 : Home Premium/Professional/Ultimate

Windows Vista : Home Basic/Home Premium/Ultimate/Business (SP2 or above)

Windows XP : Home Edition/Professional (SP3 or above)

Windows XP : Professional x64 edition is not supported

Supported : OS iPhone 3GS or above/iPod touch 3rd generation or above /iPad iOS5 or above
| | |
| --- | --- |
| SKU | PIO-XDJR1 |
| Brand | Pioneer |
| Weight | 19.2000 |
| Dimensions (WxHxD) | 24.52 in (W) x 12.14 in (H) x 4.24 in (D) |