Product Description for the Nord Electro 5 HP 73
The Nord Electro 5 HP keybed uses amazingly portable weighted hammer action piano keys. Perfect for electric and acoustic piano sounds, but also works great for organ playing. Key range 5 HP: E-E with Nord's electronic LED drawbars.
PIANO SECTION
The new Electro 5 series all feature 1GB of Piano Sample memory and a new outstanding Factory Bank including 5 Grand Pianos, 7 Upright Pianos, 11 legendary Electric Pianos, Clavinet and Harpsichords. All expertly sampled and brimming with unique character. The subtle but effective Sympathetic String Resonance technology derived from the Nord Piano, is now implemented in the Electro 5 delivering an unprecedented degree of realism to your performance when using our Grand or Upright pianos from the ever-expanding, and freely downloadable Nord Piano Library
ORGAN SECTION
The Electro 5 Organ section features an improved Tone Wheel simulation, a new additional Principal Pipe Organ model and the highly acclaimed Rotary Speaker simulation of a vintage 122 unit, taken from the award winning Nord C2D Combo Organ. A new B3 Pedal Bass feature gives you the classic 16" and 8" bass drawbars in the left hand and can even be used with the Piano and Sample section for a thick and meaty bottom.
SAMPLE SYNTH SECTION
The new Electro 5 features a dedicated Sample Synth section with attack, decay/release controls, dynamic controls (filter/velocity). The Nord Sample Library features a broad selection of free sounds from acclaimed sample producers as well as exclusively licensed sounds of the legendary Mellotron and Chamberlin.
EFFECTS
Electro 5 also features new improvements in the Effect section – all effects are now in Stereo, the Delay and Reverb are now separate effects. The Modulation effects now include a Vibe effect and the Amp section features an added Stereo Tube overdrive. Another neat feature is that Tremolo, Pan, Ring-Mod and Wah-wah effects can all be controlled with a Control Pedal.
SPLIT AND LAYERS
The Nord Electro 5 has two sound slots that can be combined in a layer or split over the keyboard (Organ/Piano, Piano/Sample Synth or Sample Synth/Organ and Organ/Organ. Each of the sound slots can have specific effects, Control Pedal and/or Sustain Pedal assigned to them – for example chorus and Sustain Pedal on the Piano and some Delay and a Control Pedal on the Sample Synth. The split function includes 6 split points, indicated with LED lights. Each of the effects sections can be assigned freely to either Upper or Lower parts.
NEW DISPLAY
The super clear new OLED display offers excellent overview when selecting sounds and editing programs.
REDESIGNED PROGRAM SECTION
The Electro 5 features a new Set List mode that lets you setup the sounds/splits/layers you need for a specific song, with 4 programs per song. The names and order of the Programs can be easily customized on the fly without the need of connecting it to a computer.
Features
Key Features And Specifications
General
Splits and Layers – Piano/Organ, Piano/Sample, Sample/Organ

1 GB memory for Nord Piano Library

256 MB memory for Nord Sample Library

OLED Display for excellent overview and readability

6 Split Points with LED indicators

Redesigned Program section with Set List feature

E-E key range for 5HP 73
Piano Section
Sympathetic String Resonance
Sample Synth
Dedicated Sample Synth section with Attack/Release and dynamic controls
Organ
Electronic LED Drawbars on 5HP

Principal Pipe Organ model

B3 Pedal Bass

Leslie 122 simulation from Nord C2D
Effects
All effects now in Stereo

Tube overdrive simulation

Vibe effect

Separate Reverb/Delay effects

Tremolo, Pan, Ring-Mod and Wah-wah can be controlled with Control Pedal
| | |
| --- | --- |
| SKU | NOR-ELECTRO5HP73 |
| Brand | Nord |
| Weight | 1.0100 |
| Dimensions (WxHxD) | 42.3" x 4.8" x 13.5" |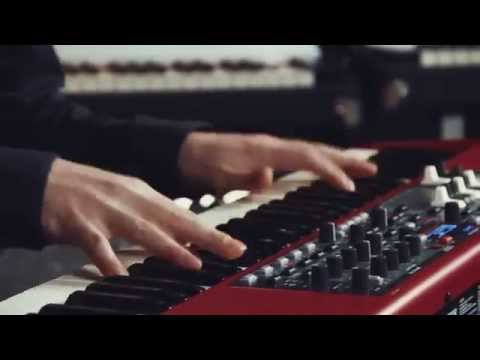 Recommended Accessories