Product Description for the TC Helicon Voicelive 3 Extreme Edition
Absolute Performance Power
VoiceLive 3 Extreme sets you free to focus solely on your performance with groundbreaking FX automation and backing track playback. Awe-inspiring vocal effects and rich guitar sounds run effortlessly by themselves. From the first song idea to the execution of complex live arrangements, everything you've worked for comes together in VL3X.
Audience Connection Like Never Before
Every single detail you need to make your song exceptional – every FX change, every harmony, every loop – every sonic nuance – can be prepared on VL3X before the show. This totally transforms your relationship to the audience.
Recording & Sharing Power
Your inspired backing tracks and FX sequencing are beautifully matched by the onboard audio recorder that allows you to capture everything you do in glorious 24-bit quality. Record every live performance, every home practice, with professional studio fidelity and effects – both vocal and guitar. Turn your tour into EP material or your late night jams into SoundCloud gold.
Your Voice: Front & Center
With a mind-blowing vocal FX path featuring 11 independent effects blocks, over 180 different pre-programmed styles and more than 250 factory presets available right out of the box (and more available for free download), VL3X represents the absolute pinnacle of singers' technology and is the perfect partner for your voice.
No Compromise Guitar Fx & Amp Tones
The guitar section of VL3X puts a premium stomp box collection at your feet – with rich tones from legendary FX makers TC Electronic – plus 30 amp emulations that can be customized far beyond belief. Together they make up an unbeatable piece of guitar road-kit.
Building Better Songs With Loops
Featuring 4 times the storage of VoiceLive 3, VL3X enables you to store every loop snippet or idea you have, allowing you to experiment with real-time song creation and exciting loop jams right until you drop. The smart LoopAssist™ and metronome functions help you to make tighter loops effortlessly and auto-expand allowing for different loop lengths.
Dedicated Vocal Pa And Guitar Out
What makes VL3X an incredibly flexible performance system is the dedicated stereo vocal and stereo guitar amp outputs. Send your guitar sound directly to your favorite amp completely independent of the vocal output going to the PA – it even works when you're looping.
Endless Possibilities
Intuitive display - see your settings at a glance.
Stompbox-style access to FX and controls
Vocal, Guitar and Looping indicator colours (with back image)
All the I/Os you need - including dedicated vocal PA and Guitar Out
Features
Endless Styles & Genres
The GENRE feature allows you to easily browse hundreds of presets by style, effects type and artists. Choose a genre that suits you and VoiceLive 3 will list the presets that match your preference - perfect for when you're looking for that specific sound or need inspiration.
Hundreds Of Fx To Hit
There's a whopping 250+ factory presets and on-board storage for 500. Download and manage hundreds more via our free VoiceSupport app. Chains of up to 10 FX changes can be added to each preset and accessed with the step button.
Next Gen Power
Under the hood VoiceLive 3 has three independent cores dedicated solely to vocals, guitar and looping. More memory and lightning fast access means double the processing power of our previous benchmark: VoiceLive 2.
Command Center
VoiceLive 3 gives you easy access to presets, sounds and switching between them, while providing complete customization of switch functions and deep edit control. Use the LAYER button to change between the vocals, guitar and loop control layers. Each mode gives you instant access to layer-specific functions via the footswitches. The LCD display gives you a clear view of how footswitch controls correspond to effects.
Make It A Hit
The HIT button turns on multiple effects at once to add effect layers or to create quick A/B scenes for each preset. Use it to add dazzling vocal effects for the chorus, or strip down a guitar part for the verse, or even a combination of both vocal and guitar effects changes – you decide.
Extend Control With Stompbox Expansion
Add a Switch-3 accessory pedal to extend your on-the-fly control. Assign any presets or custom combination of Guitar, Vocal FX - or even Looping . There's also Switch-6 so you can break out even more features.
It Comes With Ears
VoiceLive 3's built in RoomSenseTM technology listens to your music to guide your harmonies. RoomSense can also be blended in with your headphone mix to allow you to hear the room sounds - especially useful with in-ear monitors.
More Mic, More Control
Now you can control your effects from a mic engineered for the sonic realities of modern vocal performance. Add the New TC-Helicon MP-76 with 4 user-assignable Mic Control buttons, the TC-Helicon MP-75, or the Sennheiser e835 FX.
Vocal Effects
µMod
Echo & Delay
Reverb
Harmony
Double
Transducer
Rhythmic
HardTune & Correction
Choir
Stutter
Vocoder
Adaptive Tone
Guitar Fx
Amp Modeling
Drive
Delay
Reverb
Compression
Resonant Filter
Wah
µMod (Flange, Chorus, De-tune)
Shifter
Rhythmic/Tremolo
Talkbox (part of Vocoder)
Control
250 factory presets
Memory for 500 presets
10 steps per preset
10 footswitches
6 preset-assignable footswitches for enabling/disabling FX blocks
Detailed editing
Genre and Styles preset categories
Design
Size
Height: 3 inches (76 mm)
Width: 13.8 inches (350 mm)
Depth: 8.5 inches (216 mm)
Construction
Anodized extruded aluminum and steel chassis
Rubberized edit/mix knobs
Recessed rubberized handle
192 x 64 Blue STN LCD, white back light display
Tri-colored Footswitch Light ring
Capacitive touch edit controls with LED indicators
Analog Inputs
Voice
Connector: Combo Balanced XLR/Balanced TRS 1/4″ phone jack
Input Impedance Balanced: 3.08 kOhm
Mic Input Level @ 0 dBFS: -52 dBu to +7 dBu
Line Input Level @0dBFS: -40 dBu to +19 dBu
EIN @ Max Mic Gain Rg = 150 Ohm: -127 dBu
Mic SNR >100 dB at typical Mic Input gain
Phantom Power: +48V (on/off via setup menu)
A to D Conversion 24 Bit, 128 x oversampling bitstream, 110 dB SNR A-weighted
Guitar
Connector: 1/4″ phone jack
Guitar Input Impedance: 1 MOhm
Guitar Input Level @ 0 dBFS: -2 dBU to 14 dBu
Guitar Input SNR >108 dB
A to D Conversion 24 Bit, 128 x oversampling bitstream, 110 dB SNR A-weighted
Monitor
Connector: Balanced XLR
Input Impedance Balanced: 25 kOhm
Monitor Input Level @ 0 dBFS +16 dBu
Aux
Aux: 1/8″ stereo mini jack
Aux Input Level @ 0 dBFS +2 dBu
Analog Outputs
Voice
Connectors: balanced XLR
Output Impedance Balanced/Unbalanced: 300/150 Ohm
Output Range 0 dBFS Line Level: +14 dBu; Mic Level: – 2dBu
Dynamic Range >109 dB, 20 Hz to 20 kHz/li>
Frequency Response +0/-0.3 dB, 20 Hz to 20 kHz
D to A Conversion 24 Bit, 128 x oversampling bitstream, 115 dB SNR A-weighted
Guitar
Connectors: 1/4″ TRS phone jack
Output Impedance Balanced/Unbalanced: 442/221 Ohm
Output Range 0 dBFS Line Level: +14 dBu; Mic Level: – 2dBu
Dynamic Range >105 dB, 20 Hz to 20 kHz note
D to A Conversion 24 Bit, 128 x oversampling bitstream, 106 dB SNR A-weighted
Headphone
1/8″ Mini stereo jack, 50 Ohm, +14 dBu max
Guitar thru
Buffered Guitar Input
Connector: 1/4″ TRS phone jack
Output Impedance Bal/UnBal: 270/540 Ohms
Monitor thru
Direct connection to Monitor input
Connector: Balanced XLR
Control
USB: USB A, Mini-B
MIDI: In/Out: 5 Pin DIN
Pedal: 1/4″ TRS phone jack
Mic Control using TC-Helicon MP-75 Microphone, MP-76 Microphone or Sennheiser e 835 fx mic
Safety And Regulations
Power
External Power Supply Mains Voltage: 100 to 240 VAC, 50 to 60 Hz (auto-select)
Power Consumption: < 14 W
Safety
EMC – Complies with: EN 55103-1:2009, EN 55103-2:2009, FCC CFR 47 Part 15B and ICES-003:2004 4th Ed
Safety – certified to: IEC 65, EN 60065, UL6500 and CSA IEC 65, EN 60065, UL6500 and CSA
Environment
Operating Temperature: 32° F to 122° F (0° C to 50° C)
Storage Temperature: -22° F to 167° F (-30° C to 70° C)
Humidity: Max. 90 % non-condensing
| | |
| --- | --- |
| SKU | TCH-VOICELIVE3EE |
| Brand | TC Helicon |
| Weight | 1.0100 |
| Dimensions (WxHxD) | 13.8 x 3 x 8.5 |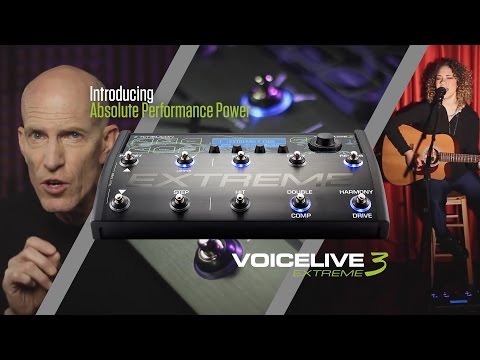 Recommended Accessories