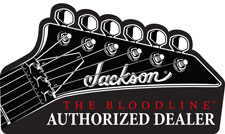 ProAudioStar is proud to be an authorized Jackson® dealer.
The Jackson story begins back in the late 70's, when heavy music experienced a flamboyant and virtuosic resurgence in popularity and a small Southern California guitar repair shop became the epicenter of a new level of shred-approved excellence. Ever since, Jackson guitars have been lauded as the metal guitars; the shred machines, highly-original, high-performance instruments of distinctive style and substance.

ProAudioStar is authorized to sell and ship Jackson® products within the USA and it's territories only.
JS Series
Jackson JS Series guitars are swift, sleek, deadly and affordable —built with more than 30 years of Jackson experience and expertise as ultimate shred machines. JS Series guitars now take an epic leap forward, making it easier than ever to get classic Jackson features, tone, looks and playability without breaking the bank.

Shop JS Series »
X Series
Jackson X Series guitars are loaded with pure Jackson DNA—classic Jackson designs, outstanding tone, ultra-fast playability and eminently affordable value for 21st century guitarists. Built with the very latest in Jackson expertise and innovation, X Series models deliver well-balanced tone with tight bass, glassy mids and crunching highs.

Shop X Series »
Pro Series
The first thing you notice about the new Jackson Pro Series, besides the striking aesthetics, is the feel—super sleek necks and well-balanced classic designs with modern features, designed to deliver outstanding tone, light-speed playability and remarkably attainable value.

Shop Pro Series »
7 & 8 String
6 strings not enough? check out our selection of 7 & 8 string Jackson guitars in a range of finishes and body styles.

Shop 7 & 8 String »