Kurzweil Forte 88 Fully Weighted Hammer Action Keyboard
88-Key Action Keyboard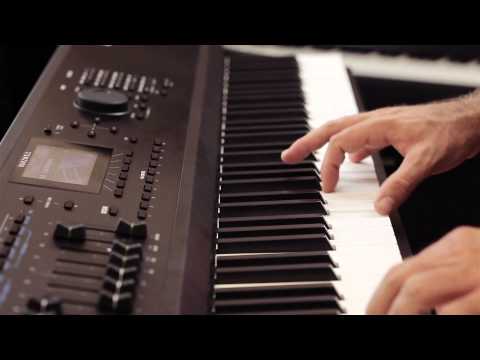 Product Description for the Kurzweil Forte 88 Fully Weighted Hammer Action Keyboard
Introducing the Kurzweil Forte.
The most advanced keyboard to ever wear the Kurzweil logo.
Introducing the Kurzweil Forte - The most advanced keyboard to ever wear the Kurzweil logo.
SOUNDS - 16 Gigabytes of All New Sounds!
New, hand-selected German and Japanese concert grand pianos, as well as new Rhodes, Wurlitzer, Clav and Harpsichords along with a wide selection of sounds from the acclaimed PC3 and KORE 64 expansion, all delivered with unprecedented expressiveness and an obsessive attention to detail.
Patented FlashPlay Technology
Flash-Play provides the Forte with a staggering amount of horse-power; 16 GB sample content with zero-loading time, heaping mounds of powerful DSP and ultrafast performance.
KB3 ToneReal Organs
Modeled after classic Hammond, Vox and Farfisa organs. Featuring all the controls you want and more, including 9 realistic drawbars.
Powerful FX Engine
Award-winning Reverbs, Delays, Choruses, Flangers, Phasers, Distortions, Rotary Amplifiers, Compressors and more.
CONTROLS - 88-note Italian Hammer-Action Keyboard
Forte programs Every sound within the Forte is perfectly matched to its 88-note fully-weighted Italian hammer-action keyboard with aftertouch.
Front Panel Master Compressor & 3-Band EQ
Room too boomy? Need to add some punch? No problem. Dial it in with the Master Compressor & EQ section featuring Bass, Treble and sweepable Midrange.
23 Programmable Physical Controllers
9 Sliders (with brilliant LED ladders), 6 Switches, 2 Wheels, 3 Switch Pedal Inputs, 2 Continuous Control Pedal Inputs and Aftertouch. (1 sustain/switch pedal is included).
Easy Access Controls
Dedicated -/+ Transpose, Tap Tempo and sound Variation controls conveniently located right above the Pitch/Modulation wheels.
USER INTERFACE - Widescreen Color Display
Navigate the Forte with a new 4.3" 480x272 widescreen color LCD display.
Sound Selection
Easy Category and Program/Multi selection. Save your own preset for each Category.
Favorites Section
Access your 10 Favorite sounds with ONE button press! Conveniently located right below the Forte's display.
Software Editors
Get deeper into editing your Forte Programs, Multis and Effects!
Features
Keyboard : 88 note fully-weighted hammer-action with velocity and aftertouch sensitive keys (Fatar TP/40L)
Display : 480x272 pixel color LCD with front-panel contrast adjust
Polyphony : 128 Voice Polyphony, dynamically allocated
Multitimbral : 16 parts (one per MIDI channel)
Quick Split/Layer : Easy access with adjustable relative volume (up to 4 zones)
Factory Programs : (TBD) Stunning factory Programs featuring the all new Japanese and German Grands, new Rhodes, Wurlitzer, Clav and Harpsichord along with a
wide selection of sounds from the acclaimed PC3 and KORE 64 expansion
User Programs : 256
Factory Multis : (TBD) Factory-crafted Multis featuring up to 4 independent zones
User Multis : 256
General MIDI : No
Master EQ/Compressor Section
Front-panel 3-band EQ with sweepable mid and on/off switch
Front-panel single-knob master compressor with separate on/off bypass switch
Effects
Over 1000 complex effect chains, incorporated into programs featuring our award winning effects reverbs, delays, chorus, flange, phaser, EQs, distortions, rotary speaker simulators, compressors, and more
32 total FX units (editing of FXChains requires use of the Desktop Editor)
Controllers
1 pitch wheel
1 modulation wheel
9 front panel sliders (w/ LED ladders)
9 KB3 control switches/control/zone mute switches
1 variation switch
1 tap tempo switch
2 transpose switches
3 switch pedal inputs (1 switch/sustain pedal is included)
2 continuous control pedal input
Monopressure (aftertouch)
Analog Outputs
Four (2 pairs) 1/4" balanced TRS analog (24-bit DACs) Automatic mono switching on both pairs.
+21dBu maximum output
400O balanced source impedance
Audio Inputs : One stereo 1/8" back-panel input for connecting your favorite MP3 player or other audio source for accompaniment playback
Headphones
1 front panel 1/4" headphone output
130mW into 32 ohm headphones
MIDI : In, Thru, Out (w/ Thru/Out switch)
USB
Two USB ports (one A port / one B port)
Complete MIDI functionality over USB
User program/multi file transfer to/from PC/Mac/Flash Drive
Operating System updates from PC/Mac/Flash Drive
Software Editors : External editors for Mac OS X, Windows PC and iOS devices
FREE OS Updates : OS updates over USB and/or Flash Drive
Dimensions : (H x D x L) 5.5 x 15.5 x 54.5" (14 x 39.5 x 138.5cm)
Weight : (49.6 lb.) (22.5 kg)
Power : Internal Power Supply, free voltage 100-240VAC 50/60Hz, 10W
Weight, Dimensions, and Manufacturer Part Numbers
Shipping Weight : 63 lbs
Shipping Dimensions : 62 x 21 x 11 in
Manufacturer Part Number (MPN) : Kurzweil FORTE
| | |
| --- | --- |
| SKU | KUR-KFORTE |
| Brand | Kurzweil |
| Weight | 1.0100 |
| Dimensions (WxHxD) | 54.5 x 15.5 x 5.5 |