Hercules P32 DJ Controller with High Performance Pads With Monitors, Headphones and Cable
DJ Controller With Amplified Monitors (Pair) ,Headphones and Cable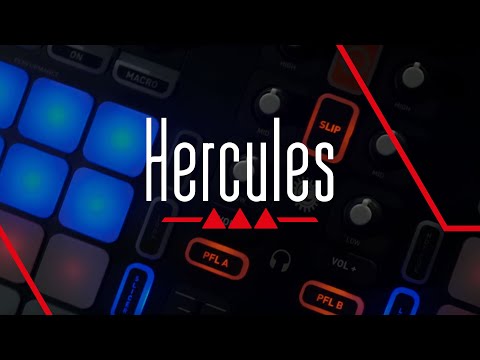 Product Description for the Hercules P32 DJ Controller with High Performance Pads With Monitors, Headphones and Cable
Product Description For Hercules P32 DJ Controller with High Performance Pads with Fluid Audio C5 Amplified Studio Monitors (Pair),AKG Tiesto K67 Professional DJ Headphones and Pig Hog PD-RCA06 6ft RCA-RCA Dual Cable
Package Includes :
1 x Hercules P32 DJ Controller with High Performance Pads
1 x Fluid Audio C5 Amplified Studio Monitors (Pair)
1 x AKG Tiesto K67 Professional DJ Headphones
1 x Pig Hog PD-RCA06 6ft RCA-RCA Dual Cable
Hercules P32 DJ Controller with High Performance Pads :
A unique, all-in-one controller at the crossroads of DJing and performance
With 2 decks, screens displaying the sizes of loops, effects racks, equalizers and more, Hercules P32 DJ is perfectly designed for mixing.
Add in the two grids of 16 pads, sample packs integrated within DJUCEDTM 40°, the slip and quantize smart functions... and you have a package with all the advantages for performance.
No compromise - Hercules P32 DJ represents the optimization of 2 worlds of DJing in a single unique controller.
The thrill of instant creative mixing: Play. Remix. Perform.
The perfect combination of body and spirit.
Hercules P32 DJ features 32 ergonomic and responsive pads for precise performance and high-quality feel.
the intelligence of the DJUCEDTM 40° DJing software lets you keep the rhythm and the structure of tracks intact, no matter what you're doing.
All the features to mix and remix are at your fingertips.
Your only task: focus on the fun of creating.
Develop your onstage presence
Being a DJ is much more than just technical skills and creating a playlist: it also involves your ability to put on a show.
Hercules P32 DJ lets you develop your signature sound, and your visual presentation.
The combination of pads, dynamic backlighting and sample packs helps you refine your identity as a DJ.
OTHER COMPATIBLE SOFTWARE (NOT INCLUDED)
The Traktor mapping file is available for download on Hercules' website
The Hercules P32 DJ is also compatible with all DJing software open to MIDI mapping, such as
Virtual DJ, Cross DJ, DJAY, etc.
Fluid Audio C5 Amplified Studio Monitors (Pair) :
he F5 studio monitor is the model that started it all for Fluid Audio. When we decided to enter this market, we wanted to address many of the issues found with monitors at this price point. We didn't realize that so many others would want the very same thing!
While it is often referred to as a "budget" monitor, the F5 brings a lot of technology and value to the table. The amplifier rear panel has not only XLR and TRS inputs for more professional applications, we have also included an RCA input for more "consumer friendly" applications. The amplifier has a generous heat sink for long mixing sessions. Most monitors have their amp heat sinks inside the cabinet where all the heat is generated and cannot escape. The F5 amplifier ICs are mounted directly to the heat sink, so heat can transmit harmlessly away from the drivers and internal circuitry. The amp also has something no other monitor in its class can boast - A standby circuit that shuts down the amp after 20 mins of non use. This may not seem like much of a feature, but we are all concerned with being "green" and conserving energy in this day and age. This is our small contribution.
While the amplifier is extremely important, all of the sound radiates from the front baffle, where the drivers and port are mounted. The woofer uses a paper pulp composite cone, which has a curve-linear geometry and is mounted to a well damped butyl rubber surround. All this contributes to a very well controlled woofer response that integrates seamlessly with the tweeter. The tweeter itself is a treated silk material, which means it's very light, very fast and provides just the right amount of articulation and "air" to high frequencies. The tweeter is mounted in a custom designed wave guide that is a perfect balance between optimizing the low end response of the device, and a great off-axis response in the near field.
The well reinforced MDF cabinet minimizes resonances, and the front mounted bass-reflex port allows the bass energy to radiate directly towards the listener. And unlike many other monitors in its class, there is a volume control on the front baffle for easy access.
AKG Tiesto K67 Professional DJ Headphones :
DESIGNED TO DELIVER CLUB SOUND FOR PROS, AMATEURS AND MUSIC LOVERS
The K67 TIËSTO headphones are designed for pros but also amateurs and music lovers – whether you're looking to mix in the studio, use in live environment or simply listen to compressed or streaming audio on your mobile music player.
TIËSTO, WORLD'S #1 DJ (DJ MAGAZINE)
"As a DJ and producer, my aim is to always give my fans a breathtaking audio experience that they'll never foget. We've created a line of headphones that are perfect for those who want the best quality of sound, but don't wish to compromise on style, whether you're looking to mix in the studio, perform live or listen when you're on the move." (TIËSTO)
IDEAL ON THE GOON-EAR, CLOSED-BACK, DYNAMIC DESIGN
With their on-ear design and high noise rejection the K67 TIËSTO headphones are ideal for a variety of applications – anywhere, even outdoors. Simply fold them down into a streamlined package for transport. The 3D-Axis professional folding mechanism makes it possible.
HIGH SOUND PRESSURE LEVELS COMBINED WITH COMPACT DESIGN
Dj-ing at a small club on Wednesday and performing at a larger venue on Friday? Due to its 40 mm transducer and great sound at high sound pressure levels, the K67 TIËSTO headphones provides first-class performance for both.
Pig Hog PD-RCA06 6ft RCA-RCA Dual Cable :
The Pig Hog Solutions line features an expanding selection of adapters and cables designed to solve common interfacing problems in the studio and on stage. Each cable is manufactured to our high quality standards to insure transparent reproduction of the source audio without any coloration or distortion.
Dual cables are a great way to keep track of stereo signals. Pig Hog dual cables feature heavy duty molded connectors with built in strain relief, color coded for easy iedentification of Left and Right Channels, an extra thick tour grade PVC sleeve.
Pig Hog is designed by musicians, for musicians. Our goal is to provide the highest quality performance with outstanding value. We understand that your cables need to sound great and perform reliably night after night, without costing you an arm or a leg!
Features
Hercules P32 DJ Controller with High Performance Pads :
TECHNICAL
DJ controller with dual mixing decks

Built-in audio (mix + preview outputs)

Two grids of 16 performance pads

Included software:

DJUCEDTM 40° for Mac/PC
BOX CONTENTS
Hercules P32 DJ

Printed Quick Start guide

USB cable
MINIMUM CONFIGURATION
System specifications

DJUCEDTM 40° PC / MAC

•2 GHz CPU or higher

•2 GB RAM or more

•Windows 7 and higher (32 and 64-bit)

•Mac OS X 10.8 and higher(32 and 64-bit)

Download DJUCEDTM 40°

Optional drivers are available for download on Hercules website

(ASIO and product firmware update)
Fluid Audio C5 Amplified Studio Monitors (Pair) :
Frequency response : 49 Hz – 22 kHz

Crossover frequency : 2.5 kHz

Low-frequency amplifier power : 40 watts

High-frequency amplifier power : 30 watts

Signal-to-noise : > 100 dB (typical A-weighted)

Polarity : Positive signal at + input produces outward LF one displacement

Input impedance : 20 k ohms balanced, 10 k ohms unbalanced

Input sensitivity : 85 mV pink noise input produces 90dBA output SPL @ one meter with volume control at maximum (101dB Max SPL)

Power : 115V ~50/60 Hz or 230V~50/60 Hz user switchable

Protection : RF interference, output current limiting, over temperature, turn-on/off transient, subsonic filter, external mains fuse

Cabinet : Vinyl-laminated MDF

Size (single monitor) : 10.25" x 6.9" x 7.7" / 260 x 176 x 195 mm

Weight (single monitor) : 11 lbs / 5 kg
AKG Tiesto K67 Professional DJ Headphones :
General :
Headphone type : closed

Audio Frequency bandwidth : 16 to 24000 Hz

Sensitivity headphones : 115 dB SPL/V

Rated Impedance : 32 Ohms

Earpads : Leatherette

Detachable cable : no

Cable Length : 1.8 m

Earpads Replaceable : yes

Foldable : yes
Audio Interface
Type : Screw-on Jack Combo (1/4" and 1/8")

Gender : Male

Contacts : 3-pin

Interface Finish : Gold
Design
Dimensions / Weight :
Length : 210 mm

Width : 180 mm

Height : 24 mm

Net Weight : 200 g
Pig Hog PD-RCA06 6ft RCA-RCA Dual Cable :
Dual RCA (male) to Dual RCA (male)

Heavy Duty Molded Connectors

Tough PVC exterior

6ft length
| | |
| --- | --- |
| SKU | HER-4780848-BUN2 |
| Brand | Hercules |
| Weight | 35.0000 |
| Dimensions (WxHxD) | No |