Focusrite Saffire Pro 24 Firewire Interface
16 In / 8 Out FireWire audio interface featuring two Focusrite pre-amps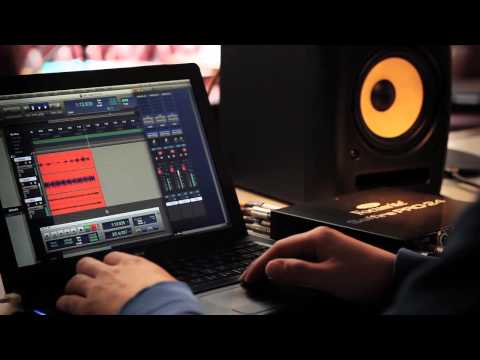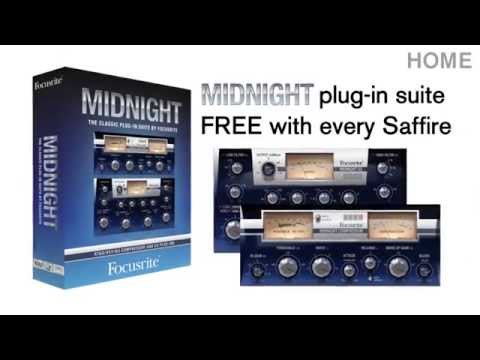 Product Description for the Focusrite Saffire Pro 24 Firewire Interface
The Focusrite Saffire PRO 24 Firewire interface is part of Focusrite's extensive range of computer audio interfaces – the best sounding interfaces in their class, attentively designed with recording musicians and the modern home or commercial studio in mind.
Sound Is Everything
At the heart of every Focusrite interface – in fact of any Focusrite product – is sound quality. Our motto is "Sound is Everything" and nowhere is that more evident than here. Sound quality distinguishes Focusrite's audio interfaces from the competition, with precision analogue/digital conversion – thanks to the highest quality components and careful circuit design – and Focusrite's award-winning mic preamps, specially designed for our computer interface ranges and based on 30 years of design experience, to deliver clean, transparent sound with minimal noise and distortion. Click here to learn more about these keys to Focusrite interface design. Saffire interfaces are compatible with any DAW on Macintosh or Windows, and with the included Red 2 and Red3 AAX plugins, make perfect partners for Pro Tools.
16-in, 8-out and full control
Saffire PRO 24 includes two of Focusrite's mic/line/instrument preamps, combined with an additional 14 inputs and eight outputs plus the very latest in mix control software and FireWire interfacing technology to deliver seamless integration, excellent routing flexibility, rock-solid driver stability, and that pristine Focusrite sound – which, as we've noted, is what it's all about
Saffire – sonic integrity
With Saffire PRO 24, sonic integrity reigns supreme. The two Focusrite preamps ensure low noise and distortion from any type of microphone, line or instrument input, and are accessed direct from the front panel. Meanwhile, behind the scenes, quality digital conversion and JetPLL™ jitter-elimination technology ensure pristine audio quality all the way, in both the analogue and digital domains.
In and out – flexibility and versatility
Alongside the two Focusrite preamps are a host of I/O options. On the input side there are two additional analogue inputs, and an ADAT input for expanding the interface – with, for example, Focusrite's OctoPre MkII. Meanwhile there are six analogue outputs including a front panel headphone output with its own level control, a rear pair of monitor outputs with a front panel level control, plus stereo S/PDIF I/O and two virtual 'loopback' inputs for routing digital audio between software applications — ideal for capturing online audio. Front panel five-step LED metering is included for each analogue input, offering detailed viewing of levels.
Ultra-low-latency on-board DSP mixing
Saffire MixControl, the ultra-low-latency 18 x 8 DSP mixer/router software provided with Saffire PRO 24 sets a new standard for audio interface control. It features flexible output routing and monitoring, as well as intuitive one-click set-up solutions designed to help you track, monitor and mix as quickly as possible.
Focusrite's Saffire PRO 24 is designed to capture every subtle nuance of your performance and delivers it seamlessly and effortlessly into the digital domain – and back – leaving you free to give your creative best in the freedom of the modern music-making experience
Features
Two high-quality award-winning Focusrite preamps
The best sounding interface in its class. Focusrite's unparalleled preamp legacy forms the foundation of this new interface, with two award-winning Focusrite mic pres.
High-quality 24-bit/96kHz FireWire interface
Features high quality A-D / D-A conversion and JetPLL™ jitter elimination technology; pristine audio quality and reliable synchronisation are guaranteed.
Total I/O count of 16 inputs and 8 outputs
A host of I/O options are provided, including a unique Loopback facility for routing audio between software applications via Saffire MixControl.
Saffire MixControl ultra-low-latency DSP mixer/router
Provides an 18 x 16 DSP mixer with excellent routing flexibility, intuitive one-click mixing configurations, and lower than 1.4ms latency (less than the time it takes sound to travel two feet through air!).
Xcite+ Software Bundle
Featuring a host of royalty-free loops and samples, a full-fledged soft-synth and Ableton Live Lite 8, providing an affordable upgrade path to Ableton Live.
Focusrite VST/AU Plug-in Suite, for use in the mix
Upgrade your standard sequencer effects and bring a touch of class to your session with all-new Focusrite Compression, Reverb, Gating and EQ VST/AU plug-ins.
Front panel 5-LED metering
LED metering for each of the analogue inputs offers detailed viewing of levels direct from the front fascia.
Dedicated front-panel headphone bus
Providing a fully customised monitor mix, with tactile level control available on the front panel.
Specifications
Microphone Inputs
Dynamic Range (A-Weighted) : 106dB

SNR (A-weighted) : -105.3dB

Frequency Response : 20Hz - 20kHz +/- 0.1 dB

THD+N : 0.001% (measured at 1kHz with a 20Hz/22kHz bandpass filter)

Noise : EIN > 125dB (128dB analogue to digital) (measured at 60dB of gain with 150 Ohm termination (20Hz/22kHz bandpass filter)

Maximum level (A-weighted) : 8.6dBu at 1%
Line Inputs
Dynamic Range (A-Weighted) : 106.5dB

SNR (A-weighted) : -106dB

Frequency Response : 20Hz - 20kHz +/- 0.1dB

THD+N (A-Weighted) : < 0.001% (measured with 0dBFS input and 22Hz/22kHz bandpass filter)

Noise : -90dBu (22Hz/22kHz bandpass filter)

Maximum level (A-weighted) : 16.3dBu at 1%
Instrument Inputs
Frequency Response : 20Hz - 20kHz +/- 0.1dB

THD+N : 0.004% (measured with 0dBu input and 20Hz/22kHz bandpass filter)

Noise : -87dBu (20Hz/22kHz bandpass filter)
Line level Outputs
Dynamic Range (A-Weighted) : 105dB

SNR (A-weighted) : -104.5dB

THD+N : < 0.001% (measured with 0dBFS input and 22Hz/22kHz bandpass filter)

Maximum level (A-weighted) : 16.13dBu at 0.885%
Additional Conversion Performance
Clock jitter < 250 picoseconds

THD+N AMPL (A-weighted)= -107dBFS
CONNECTIVITY
Analogue Channel Inputs (Inputs 1-4)
2 x XLR Mic/Line high quality Combi-Jacks (Inputs 1-2)

2 x XLR Instrument high quality Combi-Jacks (Instrument on inputs 1 and 2 only) Automatic switch of Mic / Line (inserting a jack switches from Mic to either Line or Instrument (instrument selected via the software control panel)Line inputs 3-4 have low and high gain settings can be controlled from the Saffire MixControl software (low gain being the default)
Digital Channel Inputs (Inputs 5-14) 44.1-96kHz
Stereo S/PDIF input on RCA

1 x 8 channel ADAT input on Optical Connector (SDPIF 3&4 set in preferences menu)
Analogue Audio Outputs (Outputs 1-6)
6 x TRS analogue outputs (Outputs 1-6)

1 x TRS stereo headphone output
Digital Channel Outputs (Outputs 7-8) 44.1-96kHz
Stereo S/PDIF output on RCA
Other I/O
1x 6 pin FireWire 400 socket - also compatible with FireWire 800 and Thunderbolt

2 Standard 5-pin DIN MIDI connectors: In and Out

12V DC power input connector for use with external PSU
Weight and Dims
1.6kg / 3.5 lbs

215mm / 8.5" (W) x 45mm / 1.8" (H) x 220mm / 8.65" (D)
| | |
| --- | --- |
| SKU | FOC-SAFFIREPRO24 |
| Brand | Focusrite |
| Weight | 5.2000 |
| Dimensions (WxHxD) | 8.5" x 1.8" x 8.65" |