Focusrite Liquid Saffire 56 Firewire Interface
Professional 28 In/ 28 Out with 2 Liquid and 6 Focusrite Pre-amps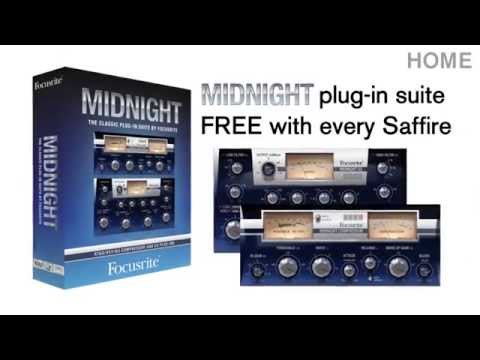 Product Description for the Focusrite Liquid Saffire 56 Firewire Interface
Liquid Saffire 56 is Focusrite's new flagship 2U multi-channel firewire audio interface. Liquid technology combines with Saffire PRO firewire interfacing to deliver a host of authentic pre-amp flavours, seamless software integration, excellent routing flexibility and future-proof, rock-solid driver stability.In addition to six of Focusrite's legendary mic-pre's, two of Liquid Saffire 56's pre-amps utilises the third generation of Focusrite's Liquid Pre-amp, providing the choice of ten different pre-amp emulations. These include emulations based on the Neve 1073, the Pultec MB-1, Telefunken V72 and seven more. A harmonics dial on each Liquid pre-amp lets you account for variance in vintage originals of the same model, or use levels of 2nd, 3rd and 5th Harmonic distortion creatively to shape your sound.
Liquid Saffire 56 doesn't just offer pre-amp variety; sonic integrity is also guaranteed throughout. Both the Liquid and Saffire pre-amps ensure low noise and distortion, whilst quality digital conversion and JetPLLTM jitter elimination technology ensure pristine audio quality as your audio flows between the analogue and digital domains.
Alongside the two Liquid- and six Saffire pre-amps, are a host of i/o options; 10 analogue outputs, 16 channels of ADAT i/o, stereo SPDIF i/o, MIDI i/o and 2 virtual 'loopback' inputs for routing digital audio between software applications - ideal for capturing audio playback within your computer. Mic, Line and Instrument inputs all utilise independent connectors, with the input type for each channel selectable via custom control software. Consequently, all the inputs can remain permanently connected, ready for whatever your recording session demands. In addition, word-clock i/o is provided on BNC connectors, allowing Liquid Saffire 56 to act as either a master clock for your studio, or as a slave to an existing clock. Every channel features an independent phantom power and a high pass filter, switchable from the front panel, with the two instrument channels also featuring -9dB pads for additional headroom. Front panel 5-LED metering for all inputs, including ADAT and SPDIF, offers accurate viewing of all levels.
Saffire Mix Control, the zero-latency 18 x 16 DSP Mixer/Router software provided with Liquid Saffire 56 features unparalleled output routing and monitoring. It also provides intuitive one-click set-up solutions, a clear and concise mixing layout, large on-screen metering for inputs, outputs and submixes and control over the choice of liquid emulation. Two independent headphone buses are provided, each with their own level controls available on the front panel. A dedicated stereo monitor mix output features pads for improved sound quality when connected to active monitor speakers. An 'anti-thump' circuit protects your monitor speakers from spikes when booting up or shutting down the unit.
Liquid Pre Technology
Rather than creating a similar sound to vintage units, as with modelling devices, Liquid Technology samples their sonic behaviour. This is achieved through Dynamic Convolution; the application of a unique, level-dependent set of responses to an audio signal. These measured responses, sampled at numerous levels and with every possible setting combination, are applied to the input stream on a sample-by-sample basis for accurate emulation. However, Mic-pre emulation can't be achieved with software alone. Hardware is required in addition to account for the physical interaction with the microphone. Mic-pre's have always had to connect to the source microphone, but it's an interactive system that isn't 100% efficient. Mic. pre-amps have been designed since 1920's to suit a wide variety of different types of mics.- passive carbon dynamics, then coil-based designs, then valve amplifiers, large diaphragms, phantom powered condensers etc.
Hence, different vintages and types of mic. pre-amp, will vary dramatically in terms of the way that their input has been designed. For example, the range of electronic/transformer front ends that have been used over the years exhibit a wide-ranging set of impedances, and this is why an analogue front end needs to be included. If a specific mic. is not being loaded by the analogue circuit just as it was by an original vintage device, then the sound from that microphone will be different. The is no real mic-pre standard. Take a transformer for instance. It has two coils of wire, the 1st coil generates a magnetic field, and this then passes into the 2nd coil- which in itself is not a fixed transfer mechanism, there's a lot of variation in transformers.
What impedance appears at the input of the pre is also a key factor- when you connect a mic. it has an output impedance of its own. The two sides (mic. and pre) react, and frequency-related level can vary wildly as a result. Capacitances also interact as both mic and transformer have capacitances that vary, so HF roll off may occur for example, or you may get an HF peak (The famous Focusrite 'airiness' typified by the ISA range for example,) Older mics. designed for broadcast applications often roll off at e.g. 12kHz, since before 1970 few people cared about HF matters. (Designers used to just roll off at c12kHz to filter out problems above this threshold.)
Consequently, The only way to accommodate the full range of different designs is to allow huge flexibility in the resistance and capacitance parameters in a custom analogue circuit designed specifically for that flexibility. By including a 'Liquid' pre-amp circuit containing a flexible signal path and variable impedance value, Liquid Saffire 56 can mimic that of the classic mic-pre to ensure that the interaction with the microphone is close to the original.
Hence, The Liquid pre-amp physically changes analogue circuitry as well as using dynamic convolution technology to create mic-pre emulations. Focusrite has built in the variations required to reproduce the vagaries of a range of electronic mic-pres. The capacitance and resistance are then varied in the circuit, and Dynamic Convolution technology is used to emulate the full range of electronic pre's. Tube emulation is also covered 100% - this is taken care of by the Dynamic Convolution process. Whatever artefacts were present in a classic vintage tube piece are also present in the Liquid Pre-amp. The sound of every opto, and every VCA compressor, every transformer-balanced, electronically balanced (including tube pre's) can be emulated, because each device's response has been calculated.
- All of Focusrite's FireWire interfaces are fully compatible with Thunderbolt using a simple FireWire to Thunderbolt adapter. Focusrite fully supports the use of Thunderbolt with our FireWire interfaces.
All Saffire FireWire and Thunderbolt-compatible interfaces now come bundled with Focusrite's Midnight plug-in suite for free upon registration – a $99 value. The Midnight plug-in suite models two of the most iconic Focusrite modules of all time – the ISA110 equaliser and ISA130 compressor – and gives them elegant, functional on-screen front panels for easy control.
Key Features
Two Liquid Pre-amps

The marriage of a hugely flexible analogue front end with cutting-edge dynamic convolution DSP, each Liquid Pre-amp lets you choose from ten different classic pre-amp emulations, with an eleventh 'flat' option.

Six High Quality Award-winning Focusrite Pre-amps

Six award-winning Saffire pre-amps complement two Liquid pre-amps. All eight pre-amps demonstrate the same wide bandwidth philosophy behind the early vintage Focusrite units.

High Quality 24-bit/192kHz Firewire Interface

Professional digital conversion and JetPLLTM jitter elimination technology; pristine audio quality and reliable synchronisation are guaranteed.

Total I/O Count of 28 Inputs and 28 Outputs

A host of i/o options are provided*, including a unique loop-back facility for routing audio between software applications via Saffire Mix Control.

Suite of Focusrite VST/AU plug-ins

Upgrade your standard sequencer effects and bring a touch of class to your session with Focusrite Compression, Reverb, Gating and EQ VST/AU plug-ins.

Two separate headphone buses

Two artists can receive independent and fully customised monitor mixes. Each output has an independent level control available on the front panel.

Saffire Mix Control Zero-latency DSP Mixer/Router

Routing flexibility and intuitive one-click set-up solutions; Saffire Mix Control provides an 18 x 16 DSP mixer with excellent output routing and monitoring capabilities.

Front panel 5-LED metering

LED metering for each of the analogue, ADAT1, ADAT2 or S/PDIF inputs offers accurate viewing of levels direct from the front fascia.
Features
Microphone Inputs
Dynamic Range (A-Weighted): 109dB
SNR (A-weighted): -109dB
Frequency Response: 20Hz - 20kHz +/- 0.1 dB
THD+N: 0.001% (measured at 1kHz with a 20Hz/22kHz bandpass filter)
Noise: EIN > 125dB (128dB analogue to digital) (measured at 60dB of gain with 150 Ohm termination (20Hz/22kHz bandpass filter)
Maximum level (A-weighted): 8dBu at 1%
Line Inputs
Dynamic Range (A-Weighted): 109dB
SNR (A-weighted): -109dB
Frequency Response: 20Hz - 20kHz +/- 0.1dB
THD+N: < 0.001% (measured with 0dBFS input and 22Hz/22kHz bandpass filter)
Noise: -90dBu (22Hz/22kHz bandpass filter)
Maximum level (A-weighted): 28.5dBu at 1%
Instrument Inputs
Frequency Response 20Hz-20KHz +/- 0.1dB
Maximum Input Level min gain no pad +8dBu
Maximum Input Level max gain no pad -42dBu
THD+N, -1dBFS, min gain, no pad < 0.0015%
SNR 109dB "A"
DNR 109dB "A"
Input Impedance > 1MOhm
X-talk < -100dB
Adjustable Gain > 50dB
Pad Attenuation 10dB
Headphone Outputs
Frequency Response 20Hz-20KHz +/- 0.1dB
SNR 109dB "A"
DNR 109dB "A"
Maximum Output into 32R +12.4dBu (+10.2dBV)
Power into 32R 250mW
Output Impedance < 7Ohms
Load Impedance > 24Ohms
Line level Outputs
Dynamic Range (A-Weighted): 108dB
SNR (A-weighted): -108dB
THD+N: < 0.001% (measured with 0dBFS input and 22Hz/22kHz bandpass filter)
Maximum level (A-weighted): 15.7dBu at 0.883%
Additional Conversion Performance
Clock jitter < 250 picoseconds
THD+N AMPL (A-weighted)= -109dBFS
CONNECTIVITY
Analogue Channel Inputs (Inputs 1-8)
Mic inputs 1-8 on rear XLR's.
Line inputs 1-8 on rear 1/4" TRS.
Instrument inputs on channels 3 and 4 (separate front panel 1/4" TRS).
Notes
Individual switchable High Pass Filter on all inputs.
Phase switch on inputs 3, 5 and 7.
Input Pad on inputs 3 and 4 = -10dB.
Analogue Outputs
Line level 10 x 1/4" TRS Jack.
Notes
Outputs Monitor 1 and 2 have anti-thump protection circuitry.
Digital I/O
SPDIF input and output (RCA phono) on rear panel, (24-bit, 44.1 - 192kHz), output transformer isolated.
Optional AES output mode with professional channel status and voltage levels on SPDIF output (isolated and balanced). [Currently not implemented, a future update will include this feature].
2 x ADAT In / Out 16 channels (44.1 / 48kHz), 8 channels S-MUX (88.2 / 96kHz), 4 channels S-MUXII (176.4 / 192kHz).
ADAT Input and Output 2 can be re-configured to be optical SPDIF input / output via control panel.
BNC Word clock input and output (75 ohms).
MIDI I/O
1 in / 1 out (16 channels) on rear panel.
Headphone monitoring
2 x 1/4" TRS Jack on front panel (mirrors outputs 7-8 and 9-10). NOTE: These are high power headphone drivers.

Other I/O
2 6-pin Firewire sockets
2 Standard 5-pin DIN MIDI connectors: In and Out
IEC mains power input connector
Weight and Dims
5kg / 11 Ibs
480mm / 19" (W) x 90mm / 3.6" (H) x 235mm /9.3" (D)
Compatible With
Windows XP - 64bit: Service Pack 2 and above only. Windows Vista
Windows XP: Service Pack 2 and above only.
Mac 10.4: 10.4.11 is supported on version 1.8 of Saffire Mix Control only.
Mac 10.5
Mac 10.6: From version 2.0 of Saffire Mix Control, both the 32 and 64 bit kernels of 10.6 (Snow Leopard) are fully supported. Windows Vista - 64bit
Windows Windows 7: From version 2.0 of Saffire Mix Control, Windows 7 is fully supported without the need to downgrade to the Windows Legacy FireWire driver. Windows Windows 7 - 64bit :From version 2.0 of Saffire Mix Control, Windows 7 is fully supported without the need to downgrade to the Windows Legacy FireWire driver.
NOT Compatible with:
| | |
| --- | --- |
| SKU | FOC-SAFFIRE56 |
| Brand | Focusrite |
| Weight | 15.0000 |
| Dimensions (WxHxD) | 24" x 7" x 13" |
Customer Reviews
Still having software issues


Review by

makoto

If you are looking for great a/d converters, great sound quality and the possibility of summing without the cables, this can be done with the Liquid saffire 56. The entire idea behind this product is Fantastic and when it works.....It rocks.

The preamp emulations are fantastic, but not exactly a true representation of the original preamps emulated. But is better than having only one choice and cheaper than buying several of them.

My only issue is with the software and drivers. Often I found my saffire freezing or simply offline. This problem is due to the software and drivers which have'nt been developed properly yet, probably because its still a new product.

Regardless, great a/d converters, several preamp options, summing capabilities and more than sufficient input outputs for a great price (Posted on 10/14/11)
Pro Quality!


Review by

junglephone

The Focusrite Liquid Saffire is a pro quality unit. The Liquid pre-amps have great sounding emulations of famous vintage and high end pres. While I can\'t say if the emulations are accurate, I CAN say that they sound good and are distinctive from the other six standard pres. You just have to play with them to become familiar with the sounds.

The standard pres sound super clean and transparent. The MIDI is rock solid and the included routing software is very flexible.

The Liquid Saffire is a great core interface for a pro quality project studio. The ADAT ins allow for expansion. I plan to add an octo pre one of these days, giving me a total of sixteen Focusrite pres. Huge bang for the buck.

Highly recommended. (Posted on 12/28/10)
Write Your Own Review