FabFilter Pro-MB
Fast Electronic Delivery. You will receive an email (usually within 24 hours) with your download URL and serial #. If you need the code faster, please call us for expedited delivery.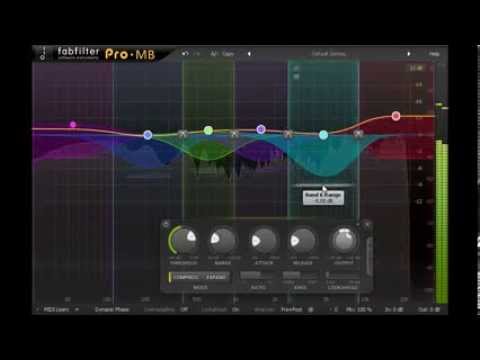 Product Description for the FabFilter Pro-MB
Multiband compression and expansion are powerful tools, but notoriously difficult to set up and control. Enter FabFilter Pro-MB: making multiband dynamics processing intuitive yet powerful at the same time.
Features
Up to six processing bands, freely placed anywhere in the spectrum
Bands can be easily snapped together to form a traditional crossover system
Unique Dynamic Phase processing mode featuring zero latency, no static phase changes and no pre-ringing artifacts
Excellent Linear Phase processing mode, eliminating audible artifacts when quickly changing crossover frequencies
Minimum Phase processing mode
Handles any form of dynamics processing, from highly transparent compression, limiting and expansion to pumping upward compression and punchy gating
Fully customizable per band: threshold, range, attack, release, output gain, ratio, variable knee, lookahead (up to 20 ms), variable stereo linking, mid- or side-only processing, external side chain input, triggering on a separate frequency range
Steepness of each crossover slope can be freely adjusted between 6 dB/oct and 48 dB/oct
Intelligent, highly program- and frequency-dependent attack and release curves
Global dry/wet mix from 0% to 200% to easily scale the total effect of the plug-in
Unique interactive multiband display, designed for an optimal workflow
Accurate and smooth real-time frequency analyzer with pre- and post-processing options and 'freeze' feature
High-quality audio processing algorithms with 64-bit internal processing where needed
Up to four times linear-phase oversampling
Band solo/mute and bypass options
Precise output metering
GPU-powered graphics acceleration
Double-click text entry of parameter values
Stereo and mono plug-ins available
Supports common Pro Tools hardware control surfaces
MIDI Learn
Undo/redo and A/B comparison
Smart Parameter Interpolation
Sample-accurate automation of all parameters
Extensive help file with interactive help hints
Available in VST, VST3, Audio Units, AAX Native and AudioSuite formats (all both 64-bit and 32-bit), as well as RTAS (32-bit only)
| | |
| --- | --- |
| SKU | FAB-PROMB |
| Brand | FabFilter |
| Weight | 1.0000 |
| Dimensions (WxHxD) | No |