Allen & Heath Xone:23C
2 + 2 Channel Pro DJ Mixer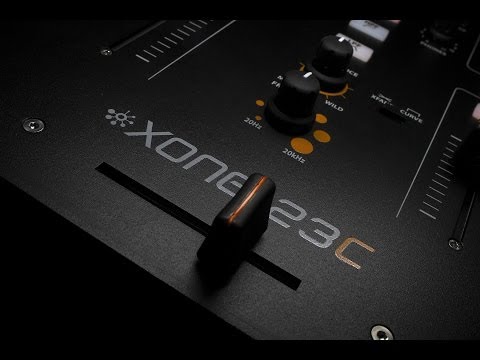 Product Description for the Allen & Heath Xone:23C
The entire microphone control section has been moved on to the main faceplate, while the mini headphone jack that used to live on the rear plate has now been moved next to the main headphone output on the front face. The mixer features an enhanced version of Allen and Heath's Xone voltage controlled filter system with resonance control, a 3-band total kill EQ per side, VCA faders, illuminated switches, styling from the flagship DB4 DJ mixer, and a user upgradeable crossfader with curve selector.
For I/O, the mixer includes two pairs of RCA line inputs and two pairs of RCA phono inputs. Though the mixer has two faders, each of the four inputs has an independent level control to enable playing up to four simultaneous sources in the mix. It also features dedicated stereo send and return channels for integrating external effects units. The front panel of the unit includes a balanced XLR input for connecting a microphone with level, high frequency, and low frequency equalizer controls.
One of the more significant improvements comes in the design of the source selection and trim level control, which are now effectively the same. Each channel has a phono and line level RCA connection (although it is possible to convert both to line level by means of a simple surgical operation), but this time both of the sources are available simultaneously by either turning up or turning down the trim level knob at the top of the unit.
The master outputs are on balanced XLR connectors and the mixer includes a dedicated stereo booth output, as well as a dedicated stereo record out for capturing your mixes to a portable recorder. An 1/8" and a 1/4" headphone connector enable cueing with a wide variety of DJ headphones.
There is a lot of choice for anyone looking for an entry level two channel mixer, but few have the all round quality found in the Allen & Heath mixer. Perhaps the only serious competition comes from Pioneer's DJM350, which features dedicated USB recording options as well as a master effects section that features a filter, jet, gate and bit crush effects. However, even the extended Xone:23C model is significantly more affordable than the DJM350. Denon also have an entry level mixer called the X120, which is lighter on features but robustly built, and is cheaper than both the Pioneer and the Allen & Heath models. However, Allen & Heath's Xone:23 is solidly built with no sideways movement in either the knobs or faders and with the improvement in output (from 25dB to 28dB, with 20dB of headroom, up from 18dB in the Xone:22 model), there is little to fault this mixer.
Features
Connections
Input
Phono : 4x RCA (2 pair)
Line : 4x RCA (2 pair)
FX Return : 2x RCA (pair)
Mic : XLR-3M
Output
Main Mix : 2x balanced XLR-3M (pair)
Monitor : 2x RCA (2 pair)
Record : 2x RCA (pair)
FX Send : 2x RCA (pair)
Headphones : stereo 3.5 mm and 1/4" TRS jacks
Impedance
Input
Phono : 47 K/330pF
Line : 20 kΩ
FX Return : 10 kΩ
Mic : <2 kΩ
Output
Main Mix : 100 Ω
Monitor : 100 Ω
Record : 100 Ω
FX Send : 100 Ω
Headphones : 1 Ω
Nominal Level
Input
Phono : 7 to 100 mV
Line : -10 to +20 dBu
FX Return : 0 to +20 dBu
Mic : -42 to -12 dBu
Output
Main Mix : +4 dBu
Monitor : -2 dBu
Record : -2 dBu
FX Send : -2 dBu
Distortion : +10 dBu
Noise : unity
Maximum Level
Output
Main Mix : +28 dBu
Monitor : +22 dBu
Record : +19 dBu
FX Send : +19 dBu
Headphones : 200 mW RMS into 30 Ω
Fader shut off : > -80 dB
Xfade shut off : > -80 dB
Distortion : 0.01% THD +N
Noise : Main Mix Out (22 to 22,000 Hz): -85 dBu un-weighted
General
Frequency Response : 10 to 50,000 Hz ± 0 dB
Dimensions (W x D x H) : 9.4 x 12.4 x 4.2" (240 x 315 x 106 mm)
Weight : 6.0 lb (2.7 kg)
Packaging Info
Package Weight : 10.9 lb
Box Dimensions (LxWxH) : 18.2 x 13.1 x 7.7"
| | |
| --- | --- |
| SKU | ALH-XONE23C |
| Brand | Allen and Heath |
| Weight | 1.0100 |
| Dimensions (WxHxD) | 18.9 x 13.8 x 8.3 |
Bundles That Include This Item
Please wait...