Product Description for the ADAM A7X
ADAM A7X
The A7X is ADAM's best selling nearfield monitor. It is one of the most balanced and versatile speakers currently on the market. The X-ART tweeter produces detailed, uncompressed highs and upper mids without being tiring over long listening periods. Despite its compact housing, the bass response is powerful and precise.
The tweeter is driven by a 50 Watt A/B amplifier and the bass/mid-woofer by a 100 Watt PWM amplifier. This achieves a very clean and nuanced reproduction of the midrange frequencies with a seamless transition in the crossover from the 7″ woofer, which operates in the range of 42 Hz to 2.5 kHz, towards the X-ART tweeter.
The A7X's ability to exactly reproduce every sonic detail no matter how small, its translucent sound image, tonal depth and stereo localization inspires music producers and explains why it is by far the most reviewed and award-winning monitor in recent years.
Driver technology
The first aspect that distinguishes the old from the new model is the X-ART tweeter. The 'X' stands for 'eXtended frequency response' and thus for one of the features of the Accelerating Ribbon Technology that has been drastically improved: the frequency response. It now extends all the way up to 50kHz. In addition, the X-ART tweeter has a higher efficiency and higher maximum sound pressure levels.
The perfect integration with the lower frequencies has been achieved with a newly designed 7" midwoofer. It has been redesigned with a much bigger voice coil (1.5") and is driven by an amplifier with twice the power compared to its predecessor. This combination produces an amazing sound and pressure levels with an almost distortion-free musical reproduction.
Amplifiers / controls
Each driver has its own dedicated amplifier. A 50W A/B amp is responsible for the X-ART tweeter, while the midwoofer is being driven by a 100W PWM amp. The front panel includes a power switch and a control for the volume that retains the volume setting independently from the on/off switch.
On the rear panel are several additional controls: a gain for the high frequencies (± 4dB) and two shelf filters for high and low frequencies.
To ensure greater compatibility, there are both XLR (balanced) and RCA (unbalanced) connectors.
Features
The most sold and awarded studio monitor from ADAM Audio
Trust the judgment of thousands of users and work with the industry standard
X-ART tweeter, handmade in Berlin
Allows longer operation with fewer signs of fatigue

Their breakup is prevented by the folded diaphragms, distortions are effectively reduced to a minimum

Advanced dynamic range due to acoustically effective diaphragm surface that is 2.5 times bigger (compared to a classic tweeter according to the piston principle)
The air velocity ratio of 4:1 during the sound generation by folded X-ART membrane
Direct, fast response in the high-range even with complex transients
Ultra-light but extremely dimensionally stable woofer material (Carbon/Rohacell/Glass fiber)
Excellent transient response even at high sound levels without breakup of the diaphragm
Vertical 2-way system with 7" woofer
High resolution of the stereo image
Spacious bass reflex ports on the front
Bass reproduction with very low compression

Allows positioning close to walls
Highly efficient PWM amplifier for the woofer coupled with an A/B amplifier for X-ART tweeter
Low-distortion amplification at both low and high volume levels
Linear frequency response of 42 Hz to 50 kHz
Unbiased reproduction in a wide frequency band
Maximum peak sound pressure per pair in 1 m ≥ 114 dB
Powerful, compression-free sound reproduction even at very high sound levels
Simple, stepless room acoustic adjustments over tweeter gain, low and high shelf filters
Allows optimal adaptation to acoustically difficult listening environments
Analog XLR and RCA inputs
Optimized for balanced and unbalanced line signals
Acoustically optimized cabinet geometry
Reduction of unwanted reflections on the cabinets
Directional sound radiation in vertical plane
Reduction of early reflections on the surfaces of, e.g. mixing consoles, desks, etc.
Volume control and on/off switch on the front
Mid-Woofer
Number : 1

Basket Ø : 7" (177.8 mm)

Voice coil Ø : 1.5" (38 mm)

Cone material : Carbon/Rohacell/Glass Fiber
Tweeter
Number : 1

Type : X-ART

Diaphragm area : 4 inch (2420 mm)

Equivelent diaphragm Ø : 2" (56 mm)

Velocity transform ratio : 4:1

Diaphragm weight : 0.17 g
Built-in Amplifiers
Mid-Woofer : 1

Type : PWM

Amp. power RMS / music : 100 W / 150 W

Tweeter : 1

Type : A/B

Amp. power RMS / music : 50 W / 75 W
Control panel
Input Sensitivity : -∞ to +14 dB

High shelve > 5 kHz : ±6 dB

Low shelve < 300 Hz : ±6 dB

Tweeter gain : ±4 dB
Input connectors
General data
Frequency response : 42 Hz - 50 kHz

THD : 90dB/1m > 100 Hz : ≤0.5 %

Long term output : ≥106 dB

Max. peak : ≥ : 114 dB

Crossover frequencies : 2500 Hz

Input impedance : 30 KOhm

Magnetically shielded : No

Height x Width x Depth : 13.5" (400 mm) x 8" (255 mm) x 11" (320 mm)
| | |
| --- | --- |
| SKU | ADM-A7X |
| Brand | Adam |
| Weight | 24.8000 |
| Dimensions (WxHxD) | No |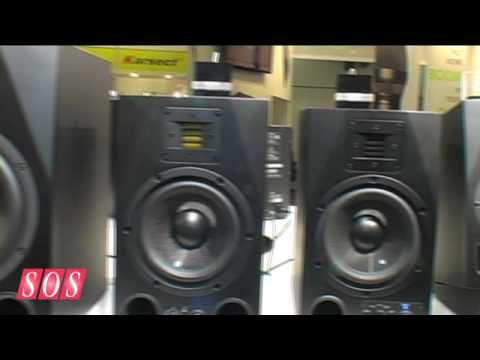 Recommended Accessories