Product Description for the ADAM A5X
ADAM A5X
The A5X is popular among professionals working in television studios and remote broadcast vans. The A5X can also be found in numerous home/project studios around the world. Its open, powerful sound makes the A5X a trustworthy and useful tool for multimedia applications as well.
Like all models of the AX-Series, the A5X is equipped with ADAM's proprietary X-ART tweeter. One 5.5" bass/midrange woofer works below 2.5kHz and is driven by a 1.5" voice coil and a powerful 50 Watt PWM amplifier. Its acoustic qualities give you a clear picture of the smallest changes in your mix and the sonic results. Despite all that it does, the A5X is not fatiguing in long studio sessions.
Stereolink
The 'Stereolink' is a useful feature for desktop DAWs. Two additional input and output jacks for the second stereo channel allow you to control the volume for both monitors using the volume control of only one loudspeaker. The volume control of the other monitor only affects its own volume in order to easily compensate for differences in listening distance. Unlike the typical master-slave configuration, each A5X monitor is fully equipped and can function either as a master or a slave unit.
Features
X-ART tweeter, handmade in Berlin
Allows longer operation with fewer signs of fatigue

Their breakup is prevented by the folded diaphragms, distortions are effectively reduced to a minimum

Advanced dynamic range due to acoustically effective diaphragm surface that is 2.5 times bigger (compared to a classic tweeter according to the piston principle)
The air velocity ratio of 4:1 during the sound generation by folded X-ART membrane
Direct, fast response in the high-range even with complex transients
Ultra-light but extremely dimensionally stable woofer material (Carbon/Rohacell/Glass fiber)
Excellent transient response even at high sound levels without breakup of the diaphragm
Vertical 2-way system with 5" woofer
High resolution of the stereo image
Highly efficient PWM amplifier for the woofer coupled with an A/B amplifier for X-ART tweeter
Low-distortion amplification at both low and high volume levels
Linear frequency response of 50 Hz to 50 kHz
Unbiased reproduction in a wide frequency band
Maximum peak sound pressure per pair in 1 m ≥ 110 dB
Powerful, compression-free sound reproduction even at very high sound levels
Simple, stepless room acoustic adjustments over tweeter gain, low and high shelf filters
Allows optimal adaptation to acoustically difficult listening environments or individual preferences
Stereolink function (Cinch cable contained in the delivery contents)
Simple and symmetric volume control on the front panel
Analog XLR and RCA inputs
Optimized for balanced and unbalanced line signals
Acoustically optimized cabinet geometry
Reduction of unwanted reflections on the cabinets
Directional sound radiation in vertical plane
Reduction of early reflections on the surfaces of, e.g. mixing consoles, desks, etc.
Volume control and on/off switch on the front
Compact cabinet dimensions
Easily mounted on walls with original ADAM Audio wall mount (optional)
Space saving positioning at any height
Mid-Woofer

Basket O : 5.5" (145 mm)

Voice coil O : 1.5" (32 mm)

Cone material : Carbon/Rohacell/Glass Fiber
Tweeter
Type : X-ART

Diaphragm area : 4 inch (2420 mm)

Equiv. Diaphragm O : 2" (56 mm)

Velocity transform ratio : 4:1

Diaphragm weight : 0.17 g

Built-in Amplifiers

Mid-Woofer : 1

Type : PWM

Amp. power RMS / music : 50 W / 75 W

Tweeter : 1

Type : A/B

Amp. power RMS / music : 50 W / 75 W

Control panel

Input Sensitivity : -()() to +14 dB

High shelve > 5 kHz : +/-6 dB

Low shelve < 300 Hz : +/-6 dB

Tweeter gain : +/-4 dB

Input connectors

Analog : XLR / RCA
General data
Frequency response : 50 Hz - 50 kHz

THD 90dB/1m > 100 Hz : <=0.6 %

Long term output : >=102 dB

Max. peak : >=110 dB

Crossover frequencies : 2500 Hz

Input impedance : 30 K Ohm

Magnetically shielded : No
Dimensions
Height x Width x Depth : 11" (280 mm) x 6.5" (170 mm) x 8.5" (220 mm)

Shipping Dimensions : 9 x 7 x 11 in
| | |
| --- | --- |
| SKU | ADM-A5X |
| Brand | Adam |
| Weight | 18.2000 |
| Dimensions (WxHxD) | No |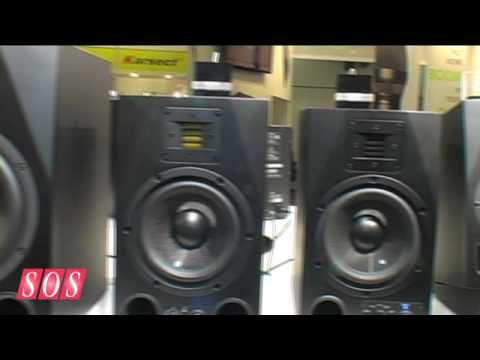 Recommended Accessories